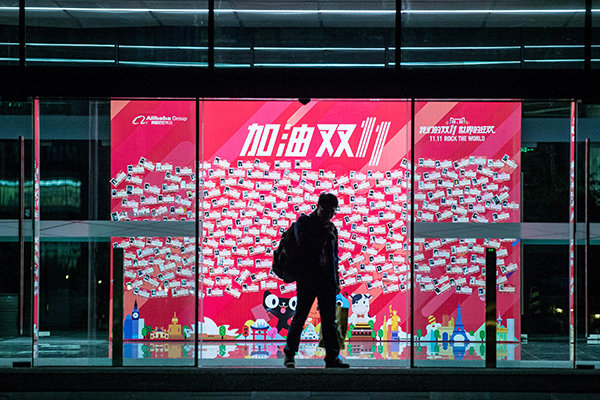 An employee walks past a advertisement for the Tmall 11.11 online shopping festival in Alibaba Group,Hangzhou city, East China's Zhejiang province, Nov 6, 2015. [Photo/China Daily]
If you are an expat living in China, you will probably have already been bombarded with messages about the most important online shopping festival of the year-Singles' Day.
The non-official festival, which marks the day when young people in China either celebrate or lament their single status, has now become the country's largest online bargain blowout.
"I think foreigners perceive it as a kind of Black Friday or Boxing Day (the day after Christmas, which is a traditional discount shopping time)," Luigi Di Gennaro, a Canadian professor teaching at the Guilin University of Electronic Technology, said.
The 24-hour online sale gives locals and expats access to a wide range of discounted products during this pseudo-holiday spending binge.
Guillermo Herrero, a Spanish basketball coach living in Beijing, has been a fan of the Singles' Day shopping craze since he first moved to China in 2012.
He recalled that one of his best achievements, in what is now an annual tradition, was to buy a pair of trousers for only one yuan ($0.16).
In fact, most expats cited clothes and electronics as the most desired items during the Nov 11 sale, mainly because of the deep discounts.
Although Singles' Day represents a unique time for bargain hunters, it can turn into a disappointing experience without adequate preparation. Organizing your wish list in advance and acting fast during the payment procedure can significantly improve your shopping experience as you snap up those must-have items.
"It is crazy. There are so many people aiming for the same products, so the competition is quite fierce," Ardi Pulaj, a Beijing-based media expert from Albania, said.
"You need a lot of luck to get the products you want. And if you succeed in getting them, you have to act quickly to pay for them."
It is also important not to get caught up in the excitement without first checking the original prices of items, delivery costs and making sure that the product descriptions match the pictures.
"Singles' Day is fun, but in my experience the deals are not that great on anything I would like to buy. It seems like some shops raise prices before the sale, then drop them, so they look like great deals," Chris Meehan, a teacher from the United States working in Beijing, said.
Taking part in the online sale without a good grasp of Chinese can also be a daunting task, especially for those who cannot read the product description and the delivery conditions.
Still, with the help from an instant translator, such as Google Translate, you can almost shop like a local.
Seven DOs and DON'Ts
1: Do plan your shopping in advance. Browse websites before you place an order to check non-sale prices and to get an idea of the items you might want to purchase. Save time by adding products to your shopping basket as you go along, so you can check out faster.
2: Don't worry if you can't master Chinese as you can use the help of an instant translator to find items and read the product description.
3: Do avoid last-minute surprises by checking shipping fees before purchasing items.
4: Do check shop ratings and product descriptions carefully. You might be in a hurry to make a decision, but if the vendor has a history of bad reviews, or if you are not sure it is the correct item, give it a miss. It's better to be safe than sorry.
5: Don't be impatient. Remember that delivery times slow down during Singles Day, so expect parcels to arrive later than usual.
6: Do ask the management in your apartment if they hold parcels the week after Singles Day. Some have been known to refuse because of the sheer weight of numbers.
7: Do feel confident about the payment process. Websites such as JD.com accept cash on delivery. Alipay now has an English iPhone app with a much easier procedure to set up an account that is linked to debit cards.
Happy shopping!