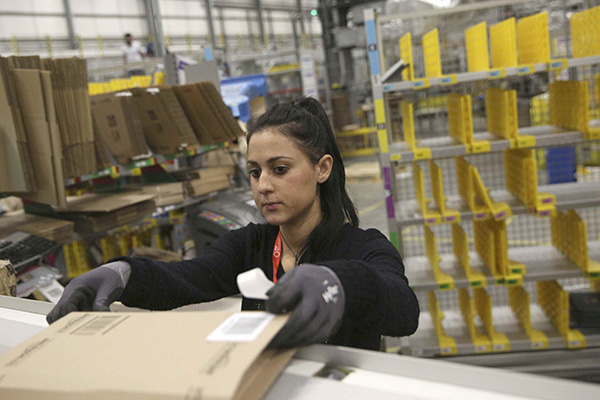 A worker collects customer orders during Black Friday deals week at an Amazon fulfilment center in Hemel Hempstead, Britain November 25, 2015. [Photo/Agencies]
Yang Xiaoxing, a female white-collar worker in Beijing, is preparing for the Black Friday event with a new dual currency credit card.
"Since all the foreign brands that I am looking for are up for sale during Black Friday, I am ready to splurge," said Yang, who said she felt that most of the items sold during China's Nov 11 online shopping festival were either too ugly or too expensive.
Customers such as Yang are exactly what cross-border e-commerce companies in China are targeting, as global shopping festivals like Black Friday are gaining ground with online shoppers who have higher demands for quality and brand reputation.
The shopping festival, which starts on Thursday, marks the beginning of the Christmas shopping season in the United States and other Western countries and is a period when retailers offer massive discounts to attract consumers.
Shanghai-based cross-border e-commerce site ymatou.com said it wants to ensure that Chinese online shoppers can get the same deals that their Western counterparts enjoy during Black Friday.
"There is huge demand in China for imported goods," said Zeng Bibo, chief executive officer of ymatou.com.
Ymatou.com is not alone in targeting Chinese shoppers. Online retail giant Amazon.com's China unit is wooing customers with more overseas products and cheaper shipping costs. E-commerce giant Alibaba's Tmall Global is planning a special sales event for Black Friday.
Part of the reason that retailers are vying with each other to attract cross-border shoppers stems from the slower growth rates for online shopping in China, said Wang Xiaoxing, an analyst with Internet consultancy Analysys International.