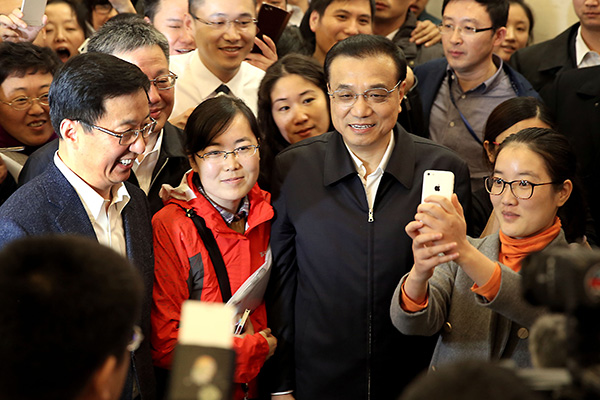 Premier Li Keqiang is in high demand for selfies during his visit to the Shanghai free trade zone on Nov 25, 2015. [Photo/China Daily]
A reform being tested in the China (Shanghai) Pilot Free Trade Zone could be introduced to other areas when the time is right, according to Premier Li Keqiang.
He said the free trade account reform-that allows businesses to conduct easier cross-border transactions-could be expanded when conditions mature.
Li made the remarks on Wednesday during a fact-finding trip to Shanghai, in a move to push for bolder financial reforms in a risk-controlled environment.
He said the free trade account system, which has operated in the Shanghai zone for more than a year, is an important measure to leverage both offshore and onshore markets. The trial could be introduced to other places when conditions were right, he said.
The People's Bank of China, the central bank, launched the free trade account system for the Shanghai zone in June last year.
It allows companies registered in the zone to use the account for financing, investment and other cross-border transactions. Firms in the zone can borrow offshore funds, transfer capital between subsidiaries in and outside of China and enjoy greater flexibility in managing foreign exchange.
To date, more than 39,000 such accounts have been opened in the Shanghai zone and cross-border transactions have reached 3.8 trillion yuan ($594.7 billion).
From January to September, the number of newly registered foreign-invested enterprises in the Shanghai zone rose by 52.6 percent year-on-year, according to the Ministry of Commerce.
The number of such entities has more than tripled in the Guangdong, Tianjin and Fujian free trade zones.
"Economic statistics show that the FTZs are the trailblazers of China's reforms," Li said.
During his visit to the Shanghai head office of the People's Bank of China, Li listened to reports covering ongoing reforms in the banking, securities and insurance sectors.
"Now that the ... risks have been prevented, we have to work in favor of stronger financial reforms. We have to work toward a two-way opening of the capital market," Li was quoted as saying by an official statement.
He also urged the municipal leadership to set up a market for insurance transactions to diversify risks.
In October, the central government allowed individuals in the Shanghai zone to directly buy overseas assets-including businesses, stocks and real estate-instead of going through a third party, such as banks and securities firms.
The decision was seen by observers as a major step in loosening the government's control on capital accounts.