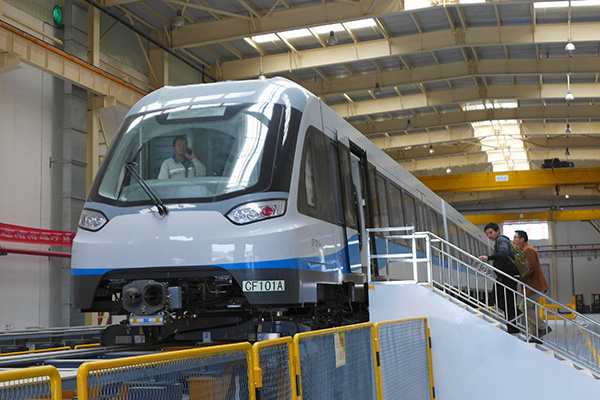 China's first low-and middle-speed maglev train gets debugged at Lanli Station in Changsha, Hunan province, on Nov 23, 2015. [Photo/China Daily]
China and Russia are setting up a joint venture in Russia for making electromagnetic unit vehicles for the Moscow-Kazan high-speed rail project, railway equipment maker CRRC Corp Ltd said on Thursday.
The vehicles will be made by Changchun Railway Vehicles Co, a CRRC subsidiary based in the capital city of Jilin province, it said.
The high-speed rail linking Moscow and Kazan, the capital of Tatarstan Republic, is located in the high altitude area, while Changchun Railway Vehicles has rich experience and advantages in making electromagnetic unit vehicles for alpine high-speed rail lines, it said.
The Chinese subsidiary's experience in making equipment suitable for extreme cold weather conditions will come in handy for the Moscow-Kazan line, said Zhu Ying, general manager of China Railway Eryuan Engineering Group Co.
The world's first high-speed railway operating in extremely low temperatures is the 921 kilometer line linking Harbin, the capital of China's northernmost province of Heilongjiang, and the port city of Dalian, Liaoning province, which opened in 2012. It works in temperatures as low as minus 50 degrees Celsius.
The maximum design speed of 400 km per hour is the fastest worldwide, and also the fastest for China's overseas high-speed railway contracts, Zhu said.
The Moscow-Kazan line, with a length of about 770 km, will run through seven Russian regions when it is completed by 2018 before the Russia FIFA World Cup.
It will cut travel time between Moscow and Kazan to three and a half hours from 14 hours now.
The line will be extended later and become part of the planned Beijing-Moscow high-speed corridor.
According to CRRC, China and Russia have negotiated on the order size and details of the joint venture.
Particulars regarding the number of electromagnetic units, scale and location of the plant and vehicle parameter performance are to be discussed later.
Lan Lan contributed to this story.