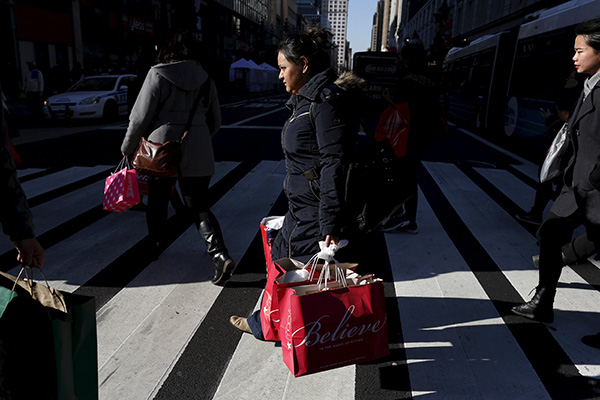 Shoppers cross a street in the Manhattan borough of New York on Nov 26, 2015. [Photo/Agencies]
Foreign brands and retailers around the world are preparing for another duo shou day-a Chinese expression which translates roughly into 24 hours when you need to chop your hands off, to stop you from online shopping.
For many years, the Black Friday shopping spree, the day after Thanksgiving, was a United States-focused shopping event.
But in the last couple of years, interest in the retail frenzy has been growing in popularity with customers in other parts of the world too.
And after being rewarded with booming revenue on China's Singles Day shopping event, on Nov 11, many international merchants are hoping to attract more Chinese online shoppers for Black Friday too.
"Singles Day was very strong for us in both traffic and conversion," said Kent Helbig, chief technology officer for Ashford.com, a retailer based in Brooklyn, New York.
"We are continuing the strong partnership and cooperation we had on Nov 11 with online payment service Alipay into Black Friday, with even more aggressive offers for our Chinese customers."
Alipay is China's largest online payment service, the equivalent of the US' PayPal, and is operated by Alibaba Group Holding Ltd, the e-commerce retail giant behind Nov 11.
Ashford CEO Mozes Hoch said Chinese shoppers are now better customers than Americans for the business, which focuses on reselling luxury watches.
The company started its collaboration with Alipay ePass last year-a system which combines payment, logistics and marketing support to allow companies to sell and deliver products directly to individual consumers through e-commerce websites.
Hoch said that with the added Alipay payment option on its website and fast logistics network provided by Alibaba, its connection to China has been raised to a different level.
"I was using a bicycle," he said, "but Alipay has brought us on a private plane to China, and it's a 747."
Ashford has been in China for two and a half years and now gets 40 percent of its transactions from IP addresses in China. That number is expected to keep growing.
Jonathan Li, co-founder of Silicon Valley-based BorderX Lab, which provides Western brands with advertising channels to increase their presence and sales in the Chinese market, is also a devotee of the shopping-day phenomenon.
After talking with more than 200 merchants, he concluded large numbers have already tapped into China's market through cross-border sales.
"Some have started selling on online platforms such as Tmall or JD for China entry, and are also making use of social media such as Weibo and WeChat," he said.
Luxury fashion brand Oscar de la Renta and jewelry retailer Blue Nile have also joined Alipay ePass, selling via Tmall, a business-to-customer platform under Alibaba.
Jon Sainsbury, president of international operations at Blue Nile, said: "For many years, Black Friday was a US-focused shopping event, but last year we saw increased interest from customers around the world."
"This year, we anticipate a further globalization of Black Friday, especially from China," he said.