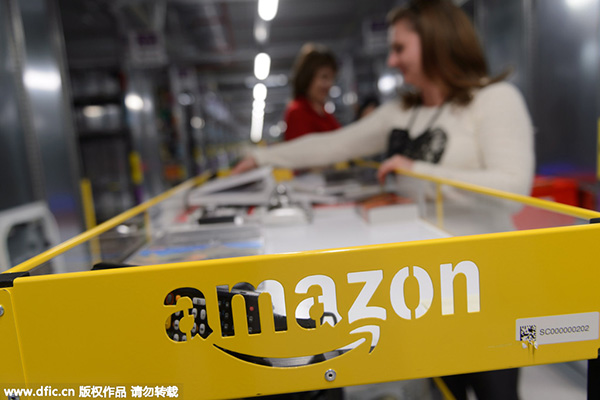 Photo shows the Amazon e-trader's new logistics center in Sady, near Poznan, west Poland, Oct 24, 2014. [Photo/IC]
Online giant plans to cut shipping costs, offer more global brands to Chinese customers
Online retail giant Amazon.com Inc is planning to use the upcoming Black Friday shopping festival to consolidate its cross-border credentials and retail presence in China.
Black Friday, which is the Friday following Thanksgiving Day, falls on Nov 26 this year. It is regarded as the beginning of the Christmas shopping season in Western countries like the United States and a period when retailers offer massive discounts to attract consumers.
Amazon's China unit has rolled out a massive promotional plan for the event and plans to attract Chinese consumers with more overseas selections at lower prices and cheaper shipping costs.
Doug Gurr, president of Amazon China, said his company's vision is all about cross-border e-commerce. "One important part (of the vision) is to help Chinese customers find the most authentic brands around the world."
Amazon China, which introduced the Black Friday shopping festival to China last year, said this year's event, which runs from Wednesday to Dec 5, will showcase millions of items from 40 countries and also offer reduction up to 50 percent in shipping costs from Europe.
Gurr said that Black Friday is the leading shopping festival in the world.
"Only Amazon can bring all of its products to Chinese customers," he said, adding Amazon, which runs 14 online platforms across the world, has a strong relationship with several leading global suppliers.
Amazon China's Black Friday comes close on the heels of the Nov 11 shopping festival, in which e-commerce behemoth Alibaba Group Holding Ltd alone generated 91.2 billion yuan ($14.29 billion) in gross merchandise volume during the 24-hour event.
Alibaba, which accounts for more than half of China's business-to-customer online shopping market, also had globalization as its theme for the Nov 11 shopping event. About 30 million orders were made by customers to purchase overseas products during the event, it said.
Some analysts have expressed concerns that the Nov 11 shopping event has already overdrawn China's consumption power.
But Wang Xiaoxing, an analyst with Internet consultancy Analysys International, said Chinese buyers still have an appetite for overseas shopping.
"Cross-border shopping is all about buying things that cannot be easily purchased in China. Amazon has abundant global suppliers, who can surpass all of China's e-commerce players. It may never grow to be as big as Alibaba or JD.com Inc, but it has chosen the most rapidly growing market in China's e-commerce sector," he said.