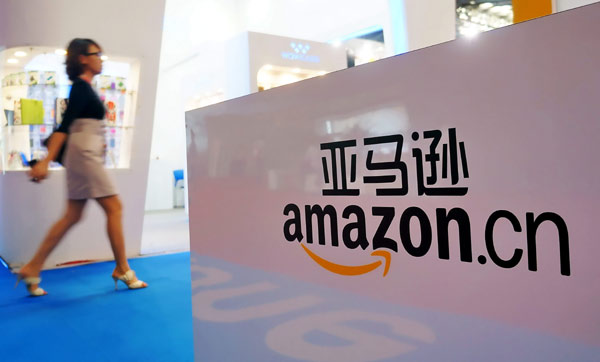 An Amazon banner displays at an electronic exhibition on June 28, 2012 in Shanghai. [Photo/Asianewsphoto]
Leading e-retailer Amazon China launched its Amazon Logistics Plus strategy on Tuesday to cater to the growing demand of its Chinese customers.
The Amazon Logistics Plus strategy offers a wide range of logistics services, including warehousing fulfillment services, transportation and delivery, cross-border logistics programs and customized logistics solutions.
Brian Xue, vice president of Amazon Global and president of Amazon Global Logistics China, said the Amazon Logistics Plus strategy is powered by the operational expertise and global fulfillment network the Amazon has developed and expanded in the past 20 years.
Some of the most complex and costly challenges that businesses face are related to the process of fulfilling customer orders. Businesses often struggle to grow due to unplanned or inaccurate inventory, inefficient warehousing management, delivery of incorrect items, or late delivery. All of these can impact customer satisfaction and drive higher costs for businesses.
"We began providing our sellers with Fulfillment by Amazon (FBA) in China in 2010. Sellers utilizing FBA have reduced fulfillment workload and cost and improved customer experience. Seventy percent of Chinese sellers using FBA reported sales increases of at least 20 percent," he said.