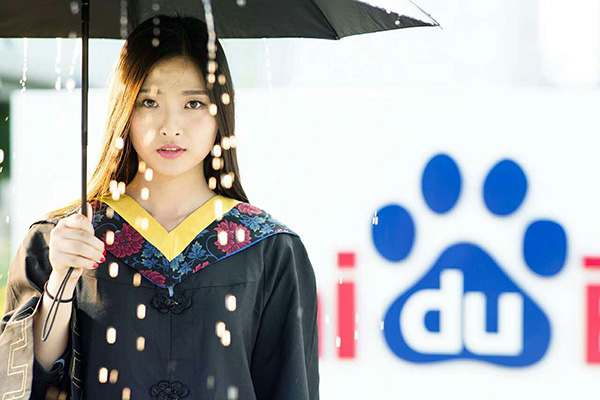 A new employee of Baidu Inc stands before its logo. Baidu each year showcases the progress made by its divisions over the past year. [Photo provided to China Daily]
This is truly the age of extravagant, media-mesmerizing corporate events. Companies go to extremes to create a splash via carefully orchestrated events like product launches, annual dos, earnings disclosures and corporate deals.
Microsoft's high-profile global launch of Window 95 probably started the trend. That, I suspect, has now morphed into an insensate competition of sorts.
Baidu Technology Innovation Conference 2015 was held on September 8. The annual event of Baidu, China's online search giant, showcases the progress made by its major divisions over the past year.
By any standards, the event at the China World Hotel in Beijing was a technology feast. Baidu's several departments used the event to highlight their cutting-edge technologies. From CEOs to top-notch experts and hard-to-get officials ... all showed up at the event and delivered impressive speeches.
But for tech reporters like yours truly, it was a different story. The one-day event packed in one main seminar in the morning and 10 other specialist seminars in the afternoon.
Baidu's business units hosted a seminar each. And each of them craved publicity and loads of media coverage, in its bid to make itself stand out from the crowd. Intense competition among different departments marked the event.
My mobile phone was bombarded by invites to numerous seminars weeks in advance. Despite my best efforts to attend as many seminars as possible, I could attend just two, not even four that interested me.
I could have requested my colleagues to join me at the event to ensure broader coverage, but, believe me, no news organization can afford to hire armies of reporters that would be needed if each and every corporate event is to be covered these days.
Consider this: At least 18 IT-related events were held across China on September 8 even as Baidu blew its trumpet in Beijing. The hosts ranged from smartphone makers that unveiled new products to tech startups that tom-tommed their latest fundraising.
A Beijing-based Internet company's PR-person explained the mad rush. The number 8, he said, is considered auspicious in Chinese culture as it means getting rich.
Another more rational reason was Apple's annual product release that was scheduled for September 10. "It would be very difficult to grab headlines when Apple jumps into the competition," said the PR-person.
So, rather than risk competing with Apple, Chinese tech firms chose to steal the thunder from each other.
But, even at other times, the IT industry in China, which has been booming for a while thanks to rising investments, holds media events at the drop of a hat. Chinese IT companies seem to be in a perpetual race to hold bigger and more lavish events.