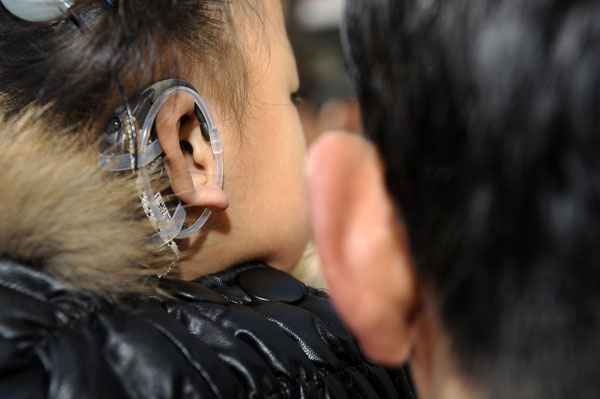 A girl, from Yinchuan, Northwest China's Ningxia Hui autonomous region, found her hearing aid on Nov 17, 2013.[Photo/Xinhua]
Switzerland's Sonova Group, the world's largest hearing-care services provider by revenue, said its next phase of progress in China will see manufacturing and research facilities being set up in the country.
Construction of the company's second cochlear implants plant in Suzhou of Jiangsu province has been completed this year, said Albert Lim, Sonova's vice-president for the Asia-Pacific region.
Sonova also introduced affordable advanced hearing aids in the Chinese market in June, said Lim, who is based out of Singapore.
Sonova's "made-for-China" products are a result of growing demand for such products and cochlear implants among the newly health-and wellness-conscious middle class.
Although hearing-care cannot be compared with treatments for other diseases or physical challenges, it is a key business, and facilitates strong emotional connections.
Sonova used customer feedback and collaborated with hearing professionals in Switzerland and China to develop hearing aids for the Chinese market.
Lim said the company has also launched a "Chinese tonal language" program for all users in China this year. This solution can hear and recognize certain mandarin tones and pronunciations, which gives it an edge over most hearing aids in the market now.
China has about 150 million people suffering from varying degrees of hearing handicap. But it lags developed markets in terms of such people going in for hearing corrections, according to a 2014 research by statistics and information center of the National Health and Family Planning Commission.
Only about 5 percent to people in China go in for hearing treatments, compared with 20 percent to 25 percent in Europe and North America.
Cochlear implant is just one important part of services offered to the hearing impaired. To serve the latter well, the industry needs more professionals, as their current number is insufficient, Lim said.
There is a full spectrum of hearing solutions, which may include a hearing aid, the wireless communication device that supports the hearing aids and the cochlear implant. Appropriate products should be selected based on the user's specific needs, Lim said.
Sonova is actively investing across China to improve the number of hearing-care professionals. The Sonova Academy collaborates with various organizations and authorities to provide professional training, Lim said.
Zhang Yuxin, an audiology professor at Shenyang-based China Medical University, said: "People who have hearing problems cannot buy a hearing instrument in a supermarket and fix it themselves. They need professional services in the form of an expert who will conduct a hearing test and then help them with fittings and usage."
Besides, hearing aids and cochlear implants need to be backed with long-term services. This requires brands to invest more in sustainable growth, he said.
Toward this end and to bring advanced technology and its expertise to China, Sonova last year-end signed a cooperation agreement with the China Rehabilitation and Research Center for Deaf Children in Beijing.
Under the agreement, Sonova will help the center establish a new hearing training center, further develop audiology education programs, and conduct exchange and short-term training programs till 2017.