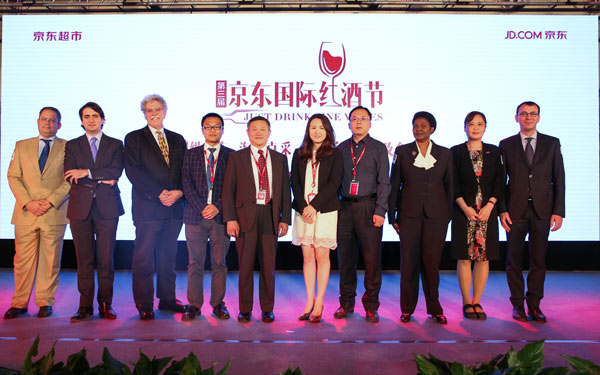 Executives of JD.com's fast-moving consumer goods unit take a group picture with 6 countries delegates during the company's third International Wine Festival kicked off on May 4, 2016 at its headquarters located in Beijing.[Photo provided to chinadaily.com.cn] 
Themed at "premium wines at affordable prices", China's largest direct selling e-commerce giant JD.com jointly launched its third International Wine Festival and imported wine strategy on Wednesday in Beijing.
According to Wang Zhiqiang, general manager of liquor purchasing and marketing department of business of JD.com's fast-moving consumer goods unit, three main perspectives, including "direct sourcing from leading overseas brands", "continually building cross-border e-commerce platform" and "introducing wine producing regions", have been elaborated as the company's next business strategy on developing online sales for imported wines.
By optimizing international supply chain management, cooperating with overseas governments and introducing world's high-profile wine brands to China market, the company aims at building a cost effective one-stop online shopping platform for domestic imported wines customers.
South African Ambassador to China, Dolana Msimang, Director of Agricultural Trade Office in Beijing of United States Department of Agriculture Bruce Zanin, Commercial Counselor with Chile's embassy in China Andreas Pierotic, and delegates from another four countries, who have close cooperation on China's imported wine, all participated in the event.
"When it comes to Chinese market, Italian wine is far from reaching its full potential," said Giovanni Brignone, spokesman for the Italian embassy to China. "China is nowadays the fifth wine consumer in the world, 7 percent of the total consumption and the fourth major importer in terms of value, and yet, Italy is the fifth supplier in China."
He expressed that with appropriate strategies, both in terms of the communications and marketing, and thanks to JD's contribution on accessing to Chinese e-buyers, they are confident to successes in China market.
Currently, the imported wine sector is witnessing a rapid growth due to the stimulation of the revised cross-border e-commerce regulations as well as the increasing number of overseas wine brands, who are eager to throw their hats in the nation, to lure a significant amount of consumers.
Statistics from The International Organization of Vine and Wine shows that imported wines to China increased by 44 percent year-on-year, reaching 550 million liters. Chinese middle class were the major driving force in the market.
According to JD.com, the company has become Lafite's largest retailer in the Chinese mainland. In 2015, the company's red wine sales doubled in 2015 compared to 2014.
It has sourced directly from 12 top wine producing countries, including France, Australia, Chile, Spain, Italy and the US, and directly imported millions of bottles of wine from more than 100 high-profile brands.
During the event, Australian wine producer Penfolds also jointly cooperated with JD.com to exclusively debut its Max's range wine for online selling in the country.
The Max collection, which includes a Shiraz, a Cabernet, a Shiraz/Cabernet blend and the flagship wine, Max Schubert, is in honour of Penfolds'former chief winemaker, Max Schubert.
Ewan Proctor, the North Asia brand ambassador of Penfolds Wines, said that the brands of Penfolds have earned impressive sales on JD.com and some of them have become top 10 selling wines on the platform.
"We can reinsure to our Chinese customers that the Max's range sold on JD.com are the genuine article of Penfolds Wines," said Proctor.