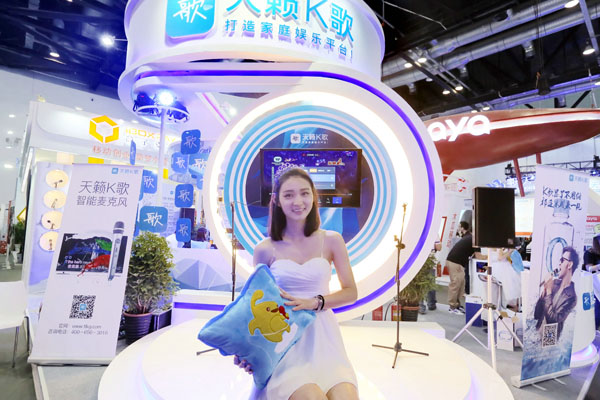 A model at the stall of Tianlai Karaoke at 8th Global Mobile Internet Conference held in Beijing, China, April 28, 2016 [Photo/VCG]
Tianlai Karaoke, one of the most popular online karaoke service providers in China, is looking to dive into the family entertainment industry, said the company's COO Hao Jie on Friday in Beijing.
"According to an earlier report by Chinese tech giant Tencent, 23 percent of Chinese households choose karaoke as their source for family entertainment," Hao said during the Global Mobile Internet Conference on April 28-30.
"With the launch of our smart microphone, we will offer an important entrance to the entertainment platform."
Besides its advantages in wireless transmission, latency and sound effects, the microphone, with its internal individual karaoke system, helps build an entire family entertainment platform, connecting TV sets to the Tianlai karaoke app on any smartphone.
"We cooperate with most of TV set producers in China in pre-installing the Tianlai karaoke products, such as Konka, Haier, Hisense, Changhong, TCL and Skyworth, as well as some emerging brands like LeTV and Youku Tudou," said Hao.
In addition, the company also works with more than 150 KTVs and pubs to realize its service loop.
"We are also looking to expand overseas, with our focus on Singapore, Malaysia and Thailand,"said Hao.
"The karaoke culture is quite popular in these countries, resulting in large demand. We are working together with local partners to establish servers to push the project. In order to provide better services in these countries, Tianlai Karaoke will tie up with local song copyright organizations to offer not only Chinese songs, but also local songs."
The smart microphone is priced at 599 yuan ($92) a pair, including a one-year free Tianlai Karaoke membership.