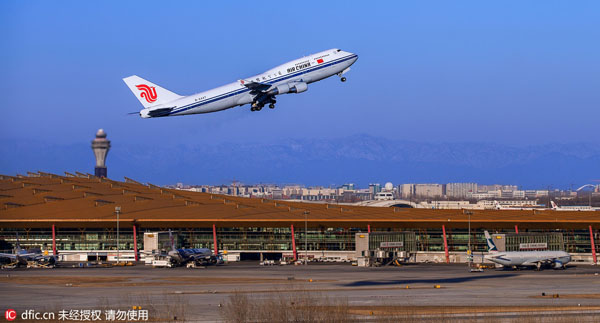 A Boeing 747 passenger jet of Air China takes off from the Beijing Capital International Airport in Beijing, China, February 11, 2016. [Photo/IC]
China is mulling new plans to bolster development of civil aviation, rental housing, as well as smart manufacturing, part of the supply-side reform to drive economic growth, according to a State Council executive meeting on Wednesday.
The meeting, presided over by Premier Li Keqiang, said more airports will be built to help distant regions with poor transportation links that are often hit by natural disasters, as well as cities with large populations and serious traffic jams.
The country will also increase civil aviation projects in key agricultural and State-owned forestry areas to facilitate aid and medical treatment during emergencies.
China is ready to invest 77 billion yuan ($11.9 billion) this year in the construction of civil aviation infrastructure, particularly airports, according to Xinhua citing the country's chief civil aviation regulator.
The nation will begin with 11 key construction projects and 52 aviation-related upgrades, said the Civil Aviation Administration of China after the executive meeting.
More nonmilitary aircraft will be used for resource exploration, environmental monitoring and transportation services.
Private investments will be encouraged to take part in new airports construction.
Meanwhile, the meeting decided to boost the supply of rental housing market by encouraging individuals to rent their own homes according to law, and transforming commercial real estate into rental housing.
The move is aimed to encourage home investments and will be a major push of the country's destocking efforts, said the Shanghai Securities News on Thursday citing Yan Yuejin, research director of Shanghai-based E-house China R&D Institute.
The government will expand the safety net of public rental housing among migrant workers, newly employed graduates as well as young professionals such as doctors and teachers.
Those who are qualified but not covered by the public housing program will be subsidized, said the meeting.
In addition, the Cabinet urged deeper integration of internet and the manufacturing sector by building innovative demonstration bases, utilizing technologies such as cloud computing and big data, and encouraging service-oriented manufacturing.
More favorable policies in fund and land will be rolled out to support small businesses in this endeavor, said the meeting.