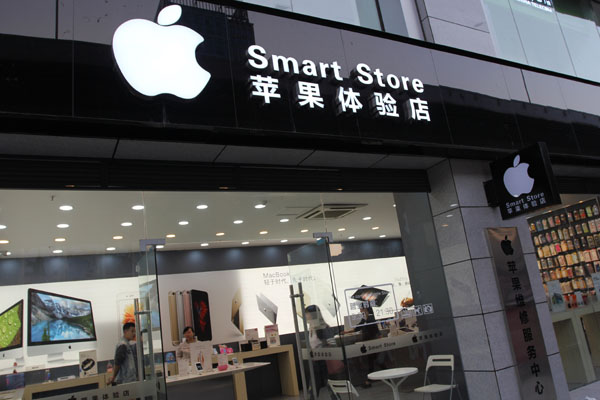 An outlet of Apple Inc in Wuhan, capital of Central China's Hubei province, April 16, 2016 [Photo/VCG]
Apple's slumping China sales reflect more than just a maturing market, but also a sign that local vendors are finally taking on the smartphone giant in high-end devices, reported Bloomberg.
The company's sales in China, once its fastest growing market, plunged 26 percent in the March quarter. Timothy Cook, Apple's chief executive, noted the sales fell from a higher base.
However, such decline was also due to increased competition, as full-fledged local brands such as Huawei and Xiaomi are pushing high-end smartphones, targeting customers seeking quality products that are priced a few hundred bucks cheaper.
Chinese vendors took three spots of the world's top five by shipments in the first quarter, according to research firm IDC. Huawei ranks the third, trailing Samsung and Apple with a 8.2 percent market share, followed by Oppo's 5.5 percent and Vivo's 4.3 percent.
"The country's smartphone industry is maturing, which is pushing Chinese companies to expedite overseas expansion and product upgrades," said Nino Siu, Moody's analyst, in a note released last month.
Leading vendors, namely Lenovo, Huawei, ZTE and Xiaomi, demonstrate robust competitiveness in their respective market segments both domestically and globally, said Siu, adding that the industry is "undergoing significant change globally".
Smartphone shipments grew mere 0.2 percent year-on-year in the first quarter, due to saturation in developed markets, according to the IDC.
China added 6 million mobile subscribers in the fourth quarter last year, marking a distant second compared to India's 21 million, said Ericsson in its mobility report.