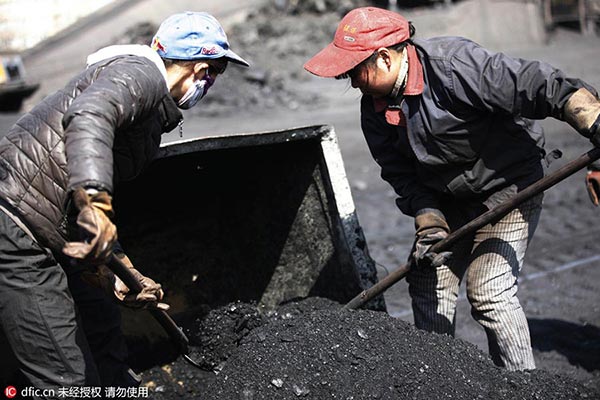 Female coal miners work at the Huaibei mine, East China's Anhui province, March 24, 2016. [Photo/IC]
As the 2015 profit reporting season comes to an end, the performance of domestic coal companies seems weaker than earlier expectations, due to overcapacity, poor demand and lower prices, Securities Daily reported on Thursday.
Last year, 39 listed coal companies reported a net loss of 5.1 billion yuan ($785.4 million), plummeting 1,120 percent year on year, the newspaper reported, citing statistics from Choice Data, a data brand under East Money Information Co Ltd.
Shaanxi Coal Industry Co Ltd posted the biggest loss, 2.99 billion yuan, followed by SDIC Xinji Energy Co Ltd, 2.6 billion yuan, and China Coal Energy Co Ltd, 2.5 billion yuan.
Statistics also showed that 34 coal firms reported a year-on-year decline in net profit.
Among them, Anhui Hengyuan Coal Industry and Electricity Power Co Ltd reported a net loss of 1.4 billion yuan - this represents a 8,292 percent decline from a year earlier. Shanxi Coking Co Ltd posted a net loss of 830 million yuan, falling 4,299 percent year on year.
The average liability ratio of the 39 listed coal companies reached 60 percent last year, the highest level since 1999. In 2014, the figure was 56 percent.
However, 19 companies still reported net profit last year, among which China Shenhua Energy Co Ltd ranked first with 16.1 billion yuan, followed by Yanzhou Coal Mining Co Ltd and Wintime Energy Co Ltd.
China is the world's largest coal producer, but the coal sector is being hard hit by an industrial glut. The State Council announced earlier this year plans to slash capacity in the coal industry and stop approving any new coal mines before the end of 2019.
The country will shut down 500 million tons of capacity and consolidate another 500 million tons into the hands of the most efficient mine operators in the next three to five years, according to a guideline issued by the State Council.
China's coal consumption will be around 4.3 billion tons by 2020, as the government pushes for cleaner and greener growth despite the slowing economy, Wang Xianzheng, president of the China National Coal Association (CNCA) said during an industry conference last month.
For the next five years, the coal industry will prioritize restructuring and upgrades, which means cutting capacity and more mergers, Wang added.