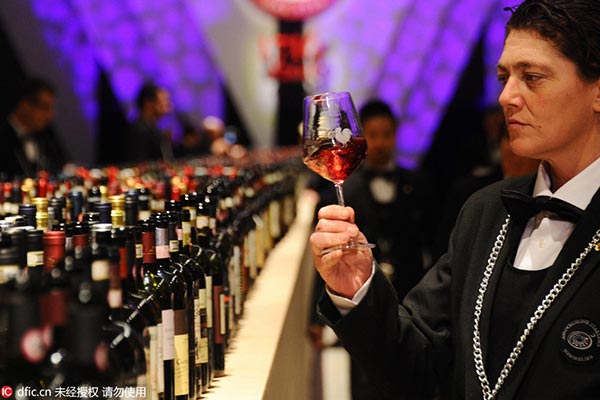 A general view of the event 'Chianti Classic Collection', a preview of new vintages and productions that will go on the market, whose theme this year is 'The 300th anniversary of the first wine-making region', Florence, Italy, 15 February 2016.[Photo/IC]
ROME - Young consumers in China showed a strong purchase power in wine consumption while Italian wine seemed to have earned a reputation among them, a recent survey has said.
According to the survey conducted by Italian Wine Monitor of Nomisma institute on a sample of 1,200 Chinese, some 32 percent of young Chinese involved in the study saw wine as the flagship of Made in Italy, ahead of other traditional industries such as fashion, interior design and food.
About 68 percent of them considered wine from Italy and France as equal in quality.
Young Chinese "are developing a growing interest in wine consumption, and this is a relevant signal for Italy's wine industry," Business Strategies CEO Silvana Ballotta told Xinhua.
The firm assists some 400 Italian wine companies in their internationalization process.
Chinese consumption behavior is drawing increasing attention from Italian winemakers and sector analysts. The study believes that more and more Chinese consumers join the force of enjoying wine.
Nomisma Wine Monitor survey coordinator Silvia Zucconi told Xinhua,"This is a great opportunity which Italian winemakers still have to take fully."
The recent survey offered hope."We have found out Italian wine has a strong reputation among Chinese young generations, and suffers no qualitative gap compared to French wine in their perception," Zucconi said.
When asked to compare Italy and France's wine, some 68 percent of the Chinese in the study said they considered them equal in terms of quality, and 22 percent considered Italian wine superior.
"We also asked them to define the characteristics of Italian wine, and the two most-used terms by Chinese were elegance and quality,"said the analyst, adding that "it means our products have earned a very good brand image."