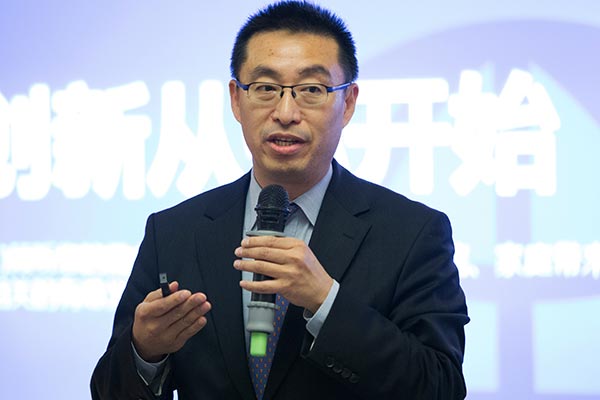 Chen Shengyu, general manager of Philips's healthcare information solution and service in China.
Royal Philips NV will deploy more healthcare solutions in a number of areas in China this year as the country copes with a surge in chronic diseases brought on by an aging population, company executives said.
The Dutch company will mainly focus on heart diseases, cancers, respiratory illnesses and fertility issues under its new plan.
Philips will also introduce new medical products and devices such as the latest expectoration and X-ray machines, color Dopplers and diagnostics sets as the company competes with established rivals.
Andy Ho, chief executive officer of Philips China, said China's hospital service system is under pressure by the growing number of senior citizens, patients with chronic diseases and shortage of available healthcare resources.
"Many Chinese consumers therefore are keen to manage their families' health on their own with the assistances of doctors, healthcare devices and services," said Ho.
"This trend has pushed healthcare industry to shift the developing focus from hospital care to low-cost family care."
As a part of the company's strategic transformation, Philips has also introduced a big data- and internet-based HealthSuite Digital Platform to establish a new clinical ecosystem in China this month.
"Its aim is to gradually provide complete medical information system solutions through data analyzing, application and integration, which can effectively provide predictable solutions for both patients and hospitals, as well as cutting patients' travel costs and make their symptoms more comparable," said Chen Shengyu, general manager of Philips's healthcare information solution and service in China.
"Healthcare big data can be used to improve management efficiency and innovate business models, giving a new impetus for the industry, which would be fairly useful to battle various chronic diseases as China's large demographic of elderly people grow older," Chen said.
Chronic diseases, which typically last more than three months, caused 85 percent of deaths in China, according to the National Health and Family Planning Commission.
Expenditure in treating these diseases accounted for more than 70 percent of the country's total healthcare costs in 2015. Common chronic diseases include cardiovascular diseases, cancer, diabetes, arthritis, asthma and chronic obstructive pulmonary disease.
About 10 million people in China have suffered from chronic diseases every year since 2002. Prevention and the control of chronic diseases are one of China's major healthcare reform tasks leading up to 2020.