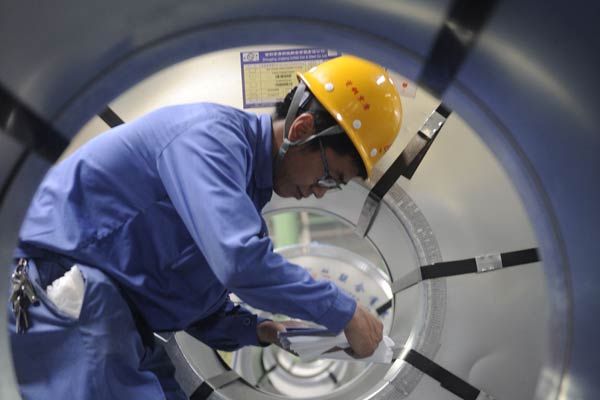 A worker is pictured in Shougang Jingtang United Iron & Steel Co on Aug 28, 2014. [Photo / Xinhua]
Despite the slight easing in growth momentum as shown by April economic data released on Saturday, Chinese economy has shown continued improvement in restructuring.
The year-on-year growth of fixed-asset investment, industrial production and retail sales all cooled in April after a recovery in the first quarter, according to the National Bureau of Statistics. But in month-on-month terms, all had positive growth. Importantly, there have been some encouraging changes in the structure of growth.
The year-on-year growth of fixed-asset investment eased to 10.5 percent to 13.26 trillion yuan ($2 trillion) from January to April, down from the 10.7 percent growth in the first quarter. On a month-on-month basis, fixed-asset investment expanded by 0.7 percent in April.
In the same month, industrial production registered year-on-year growth of 6 percent, down by 0.8 percentage points compared with March. It increased by 0.47 percent in April month-on-month.
Retail sales increased by 10.1 percent in April year-on-year, 0.4 percentage points down from March. Month-on-month, retail sales grew by 0.8 percent.
Wang Baobin, senior statistician with the NBS, said in a note that the slower year-on-year fixed-asset investment was caused mainly by weaker investment growth in infrastructure. Also, manufacturing has been trapped by weak demand and overcapacity problems that "remain severe", Wang said.
Despite the falling year-on-year growth of the indicators, structural improvement has become apparent with efforts to foster new growth engines as both domestic and external demand weakens.
Money invested in industrial technology upgrades in manufacturing increased by 15.8 percent in the first 4 months, 8.5 percentage points higher than that of overall industrial investment. Investment in consumer goods manufacturing rose by 10 percent year-on-year in the January-to-April period, 4 percentage points higher than that of all manufacturing investment, in line with restructuring strategies, Wang said.
He Zhicheng, an independent economist, said that the drop in manufacturing investment is inevitable with restructuring and the search for new growth impetus.
"We might have to wait for another couple of months to see new engines to pick up," said He. A temporary slowdown shown by monthly data should not raise concerns over the stabilizing trend of the world's second-largest economy, which is moving away from the inefficient investment-led model and shifting toward a consumption-driven growth pattern.
He said the government might not further ease monetary policy in response to the new data, given that the central bank said on Saturday that its monetary policy stance remained unchanged, pledging to maintain a "prudent" policy.
Economists said what is more concerning is slowing private investment growth that may affect the vitality of the broader economy.
Growth of fixed-asset investment by private firms, around 62 percent of overall fixed-asset investment, rose only by 5.2 percent year-on-year in January-April, the slowest in four years.
Xu Kunlin, head of the fixed-asset investment department with the National Development and Reform Commission, said on Friday "a series of measures" will be taken to boost private investment, including lowering market entrance barriers and helping private firms with access to financing channels.
wangyanfei@chinadaily.com.cn