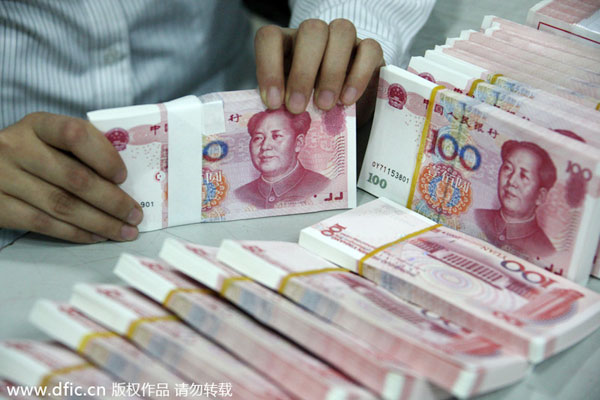 A clerk counts yuan bills at a bank in Huaibei, East China's Anhui province. [Photo/IC]
China's commercial banks are gradually resuming third-party payment services for online person-to-person (P2P) lending platforms, Beijing Morning Post reported on Wednesday.
"The Agricultural Bank of China (ABC) has reopened the channel," P2P lending startup Duanrong confirmed to the paper, saying the bank had resumed the service in April, setting the same payment limits as before. However, China Merchants Bank (CMB) has yet to resume the business, the source said.
Another P2P lending platform Yongquanjinfu said on its website that CMB and ABC have both restored third-party payment services.
Starting from April 28, CMB joined Alipay quick payment, with a cap of 50,000 yuan ($7,668) per transaction, while the limit for ABC cards was eased to up to 100,000 yuan per deal.
Earlier this year, CMB, ABC and other banks closed P2P third-party payment services in a bid to "check risks", dealing a heavy blow to the P2P industry. In February, some third-party payment firms said CMB had resumed the service.
Insiders say the resumption is good news for the P2P industry. With improved supervision on Internet finance, the one-size-fits-all approach is being corrected, according to analysts.
Some P2P platforms said supervision has been tightened since April. While illegal financing and fraud deserve punishment, platforms whose practices conform to laws and regulations should be encouraged in order to avoid wrongly killing an emerging industry in its infancy, they added.