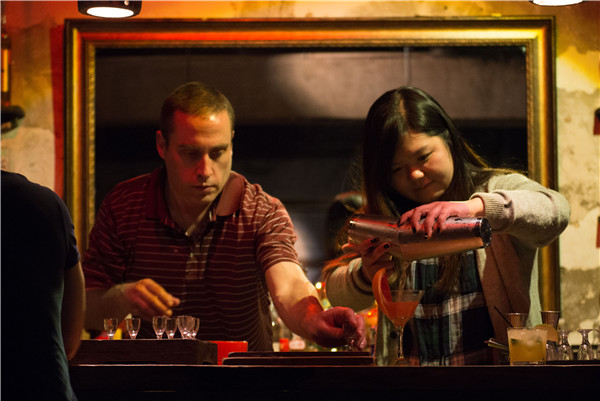 Bartenders serve baijiu-based cocktail at Capital Spirits in Beijing.BRUNO MAESTRINI/CHINA DAILY
Their drinks are now distributed to restaurants, bars and liquor stores in 15 states in the US, including a supply agreement with Disney World in Florida. The company is also reaching 50 states in the country, thanks to online sales.
Byejoe, which has already expanded to Hong Kong, says it has also received expressions of interest from importers in Switzerland, the United Kingdom and Spain.
Los Angeles-based CNS Imports, one of the oldest and largest baijiu suppliers in the US, has been importing top baijiu brands from China for over 35 years.
The importer prides itself in having more than 200 products in its portfolio, from the ultra premium Moutai brand to HKB, a special blended mix drink designed for Western palates.
Steaven Chen, COO at CNS Imports, explains that when his parents started the company in the 1980s, they mainly focused on selling the liquor within Chinatowns.
Chen and his sister took up the baton to focus on educating the West on the high-proof spirit, noting that US consumers are increasingly keen on the drink.
CNS anticipates positive sales growth of the liquor among both the Chinese community overseas and the mass market, with the general market carrying a much higher long-term potential.
"From our sales, we do know that baijiu is expanding in the United States," argued Chen. "The largest spirit category in the world certainly has a place in America."