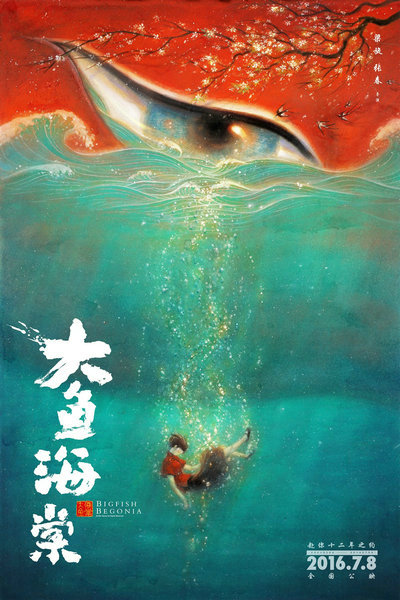 Poster of Big Fish & Begonia.[Photo/Mtime]
The year 2016 so far is witness to a slew of domestic films that enjoyed satisfying box office returns, yet some of them suffered controversy at the same time. Here we list top five Chinese films that created most buzz so far. Let's take a look.
Big Fish & Begonia
One of the most anticipated Chinese animated films, Big Fish & Begonia hit the big screen this summer after 12 years in production. However, the animated work soon became the center of public dispute because of its seemingly over-simplified or less-convincing plot, even if it was a big success in ticket sales.
The film tells the story of a young girl named Chun who lives in "another world" beneath the sea, like a sea sprite. She turns into a big fish to visit the human world. However, a boy there dies trying to save her when she is in danger. Chun tries everything to bring the boy back to life, even though it goes against the laws of her world. She sacrifices her life and her clansmen are punished.
Many viewers were amazed at the delicate hand-printed animated images, the strongly-felt Chinese cultural elements and the film's high production quality. However, others frowned on the Chun's values -- saving her beloved at the expanse of her whole village's safety. Moreover, the relationship between Chun, Kun and another lead actor, Qiu, came in for a lot of criticism, with many people calling it a "love triangle" that lowered the values and made the story seem cliché-ridden.