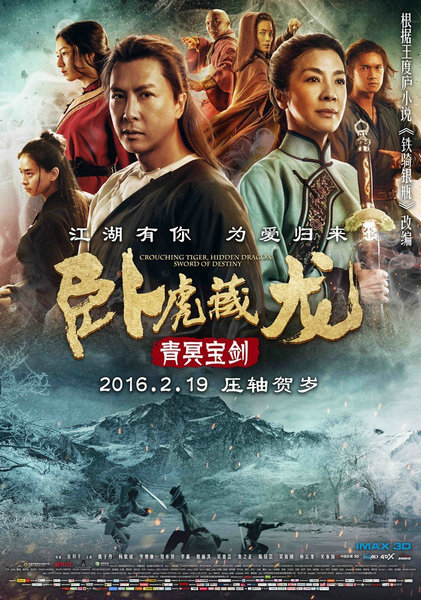 Poster of Crouching Tiger Hidden Dragon II: The Green Destiny. [Photo/Mtime]
Crouching Tiger Hidden Dragon II: The Green Destiny
As the sequel to Ang Lee's classic film, Crouching Tiger, Hidden Dragon (2000), The Green Destiny was highly anticipated by the public before its release. However, once it actually hit the screen, it was mocked.
The film was widely blamed as dishonest, as it had little connection to the previous classic, even though it was labeled as a "sequel". Many viewers doubted that the new film made use of the original's world-class fame.
Co-produced by Chinese and American professionals, the movie also was criticized for its too-Westernized plot.
"The Green Destiny focuses too much on its martial art scenes, but lacks of spiritual and cultural basis of traditional Chinese kung fu", said well-known film critic Meng Lishishu (Dai Liang).
Directed by China's Woo Ping Yuen and written by American playwright John Fusco, the film itself was shot in New Zealand and all the actors and actresses speak English in the film (even though most of them are Chinese). As many critics said, maybe this cinematic creation was meant for Western audiences, which can somehow explain why it's only rated as 4.8/10 on Douban.com, China's biggest film review website.