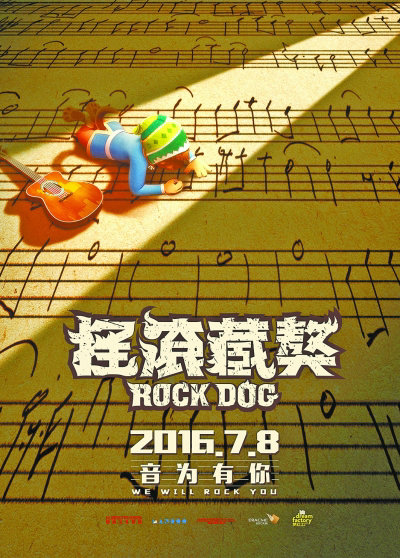 Poster of Rock Dog. [Photo/Mtime]
Rock Dog
Another animated film that enjoyed much anticipation yet exploded into debate is Rock Dog. The eight-year production was adapted from an original cartoon created by well-known Chinese singer Zhen Jun. The movie fellows a young Tibetan mastiff who pursues his musical dream, which is somehow a reflection of Zhen's own life story.
Co-produced with DreamWorks, the movie is a Hollywood-standard work with high quality and a mature storytelling approach. However, critics claimed that the movie follows too closely to "Hollywood routine", which brings no surprises to audiences. Also, the film's Chinese dubbing is widely considered unprofessional.
However, what draws the most argument is the film's box office performance and its problematic screening arrangement. Released the same day as Big Fish & Begonia, Rock Dog was screened in few theaters. Many theaters showed the film at midnight or during the day, avoiding prime time. The total number of screenings was surprisingly less than one third of the average level, which raised many questions and doubts, and even rumors.
"If THIS is how the game is played in the domestic film market, then I would rather not play it. I have followed my conscience and would not make compromise," Zhen said.