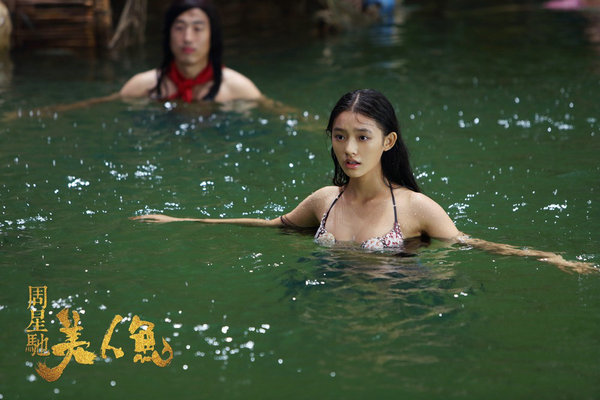 Poster of The Mermaid. [Photo/Mtime]
The Mermaid
Directed by well-known actor and director Stephen Chow, the film was almost ensured success in box office based on Chow's name.
The film was released in January, and immediately ignited controversy. It tells the story of a mermaid named Shan Shan, who tries to kill a businessman named Liu Xuan, to save her ocean home and kinsmen. Liu Xuan is engaged in a cruel project that will destroy the gulf environment and kill creatures in the sea. However, Shan Shan and Liu Xuan fall in love, creating a dangerous yet beautiful mermaid-human romance.
Most of the criticism came from its plots and the lead actress's performance. "Old bag of tricks" is the most common label that film viewers posted online. Stephen Chow, 54, has enjoyed strong popularity since the 1990s and is well-known for his comedy films. Many funny plots in his films became classics for imitation. The Mermaid advanced his previous "gibberish-ridicule" funny style, yet little innovation or change can be found.
"The same old recipe, the same taste," said @Suo Youtuandetuanzhang on Douban.com, China's biggest film review website. The comment got 8,190 likes. Meanwhile, Chow's fans and supporters called it a brilliant work and praised it for its theme of environmental protection. They thought "the same old taste" was just fine.
Also, the performance by actress Lin Yun, who played protagonist Shan Shan, was controversial. Working as an actress for the first time, Lin's acting was criticized by the public, with many calling her the biggest failure in the film.