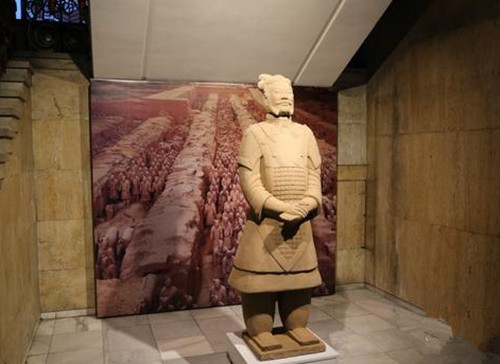 A replica of a terracotta warrior was placed in the city hall of Veliko Tarnovo.[Photo/Culturalink.gov.vn]
A lifelike terracotta warrior replica was unveiled in the city hall of Veliko Tarnovo, Bulgaria on Mar 18. Daniel Panov, the mayor of Veliko Tarnovo Municipality, Yi Liya, cultural counselor of the Chinese Embassy in Bulgaria, and Qiang Sheng, a representative of Xi'an's foreign affairs office were present at the unveiling ceremony.
Terracotta Warriors is a clay army of more than 8,000 life-size terracotta figures of soldiers and horses discovered in 1974 in Xi'an, Shaanxi province. It is now regarded as the Eighth Wonder of the World. As a gift for Veliko Tarnovo, this replica was reproduced based on the real soldiers of the Terracotta Army.
Daniel Panov appreciated the significance of the gift, and called for a greater degree of exchange in economy, tourism and culture between Veliko Tarnovo and Xi'an.
"Located in the city hall, the terracotta warrior replica will be the symbol of friendly relations between these two ancient cities," said Panov.
Yi Liya said that the gift of the terracotta warrior replica expressed the friendship from the people of Xi'an and would connect the two cities closely.