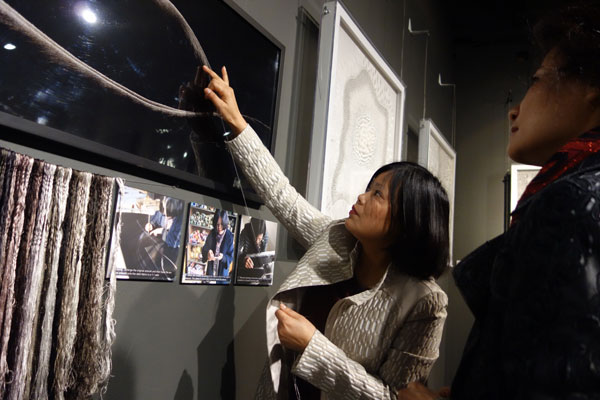 Huang Linzhen explains her embroidery techniques in an arts exhibition in central London.[Photo provided to China Daily]
Great art often inspires further creativity, sometimes in a surprising form. For Tim Flach, a London-based animal photographer, the idea that some of his best works would be recreated through the art of Chinese embroidery came as a surprise.
On March 11, when Silk Equus, a one-off double-sided silk embroidery tableau of Flach's most recognizable horseback photograph, was exhibited at London's China Design Center, it stunned every viewer in the room, including Flach, who was seeing the piece for the first time.
Silk Equus' creator is Huang Linzhen, a 44-year-old Chinese embroidery artist. With silk threads split into one-sixteenth of the thickness of a hair, with more than 80 hues, a variety of different stitching techniques and 50 days' hard work, she presented to the curious audience in London a unique recreation of the photograph-one that both meticulously captured the original details and also added a distinct texture to the image.
Flach was amazed by the diligent work. "The photo was taken in a millisecond, yet Huang's recreation took two months. The image was transformed in such a way that fully expresses the details," he says. "I am honored to have Mrs Huang rework my image."
The photographer is best known for applying principles of human portraiture to his conceptual image of animals. The image-which highlights the smooth back shapes of two dark horses-was chosen from his 2008 collection Equus, a photographic study of the family of horses.
Huang's embroidery style is called Su Xiu (Suzhou) embroidery, one of the four major regional styles of Chinese embroidery. Suzhou embroidery has a history of 2,000 years and is crafted in areas around Jiangsu province in East China. Typically working with natural themes like birds or animals, modern Suzhou embroidery also seeks inspiration from artwork with different cultural backgrounds to explore new artistic directions and to keep the ancient needle art alive.
Huang is one of the pioneers in such exploration. She started practicing embroidery at age 7 and has, for decades, searched for inspiration from oil paintings, traditional Chinese ink paintings and realistic paintings. When Huang first saw Flach's horseback photo, she says, its abstract form and soothing lighting moved her immediately. "It gives the audience a lot of space for imagination."