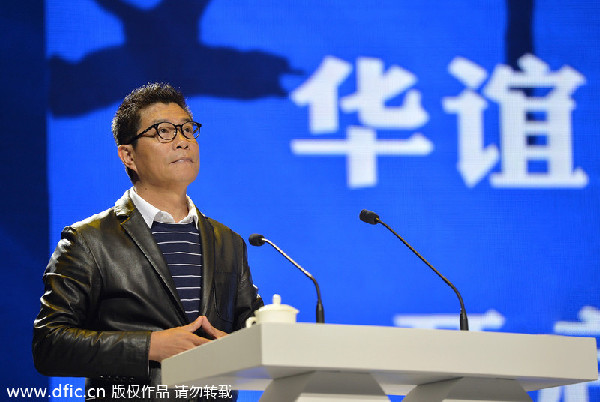 Wang Zhongjun, chairman of Huayi Brothers [Photo/IC]
China's largest private film company has signed an agreement with a yet-announced United States company to fund, co-produce and distribute at least 18 feature films by the end of 2017.
Huayi Brothers Media Corp disclosed the deal on Monday in a regulatory stock filing.
Variety.com, citing sources, reported that the US partner is STX Entertainment, while STX declined to comment.
"To have this distribution and finance capacity, it (Huayi's US partner) must be huge with strong infrastructure and expertise," said Bruce Nahin, a Los Angeles-based producer and entertainment consultant who is the founder of Janick Entertainment.
Los Angeles-based STX Entertainment, launched in 2014, has distribution agreements with cinema chains including AMC, Regal, Cinemark and Carmike. The studio also has announced planned films featuring stars such as Matthew McConaughey, Nicole Kidman and Julia Roberts.
Huayi's US partner will lead the production, and Huayi will be in charge of the distribution within the Greater China region (Chinese mainland, Hong Kong, Macao, Taiwan and Singapore).
The two companies will share global revenue and intellectual properties based on investment proportions and other agreements. Huayi also will receive commissions for its distribution within Greater China.
Such an agreement between Hollywood and a Chinese company is the first, according to Huayi.
"Distribution is very important for a film, as it determines how broadly the film will be displayed in the country's cinemas. For language and cultural concerns, foreign films often have local distributors," said He Fan, co-founder of EnMaze Pictures, a distribution company based in New York. "Part of the reason why Hollywood movies are so influential is that all major established studios have their own global distribution network."
China has a quota of 34 US movies a year, and American film producers receive only 25 percent of box office revenue. Co-produced movies will not to be subject to the quota, and production parties can receive 43 percent of the total revenue.
"As China is a lucrative market, US producers are looking for every edge they can find to get their films distributed in the country," said Kathryn Arnold, a Los Angeles-based producer and entertainment consultant.
Having distribution rights to 18 American films also guarantees Huayi quicker and more stable revenue, said a source connected with Huayi, who requested anonymity.
The company is shifting from its overreliance on production of its own films and artist management, as not all films it produced could be a hit and artists may leave, said the source. Meanwhile, "The Chinese are best suited to deal with internal distribution and the issue with importing it into China, the governmental issues and such," said Nahin.
"In the future, Huayi will comprise two sections - the stable domestic market and the increasingly expanding international market," said chairman and CEO Wang Zhongjun in a statement.
In May, Huayi Brothers unveiled a plan to invest $120 million to $150 million in former Warner Brothers boss Jeff Robinov's Studio 8 company.
"Chinese companies seem to be enthusiastic about investing in powerhouse U.S. films and the companies that make them, as the desire and market for filmed content in China grows," said Arnold.
Lu Huiquan in New York contributed to this story.