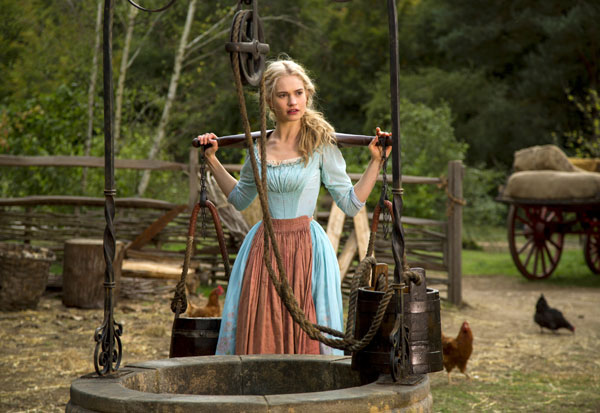 Disney's Cinderella, starring Lily James, topped China's box office this week. [Photo/Agencies]
Disney's live-action movie Cinderella topped the China's box office this week, marking Hollywood's return to top spot in the mainland market after February was dominated by homegrown blockbusters.
The three top-grossing blockbusters of the past weekend-sweeping nearly 75 percent of the overall box office at around 402 million yuan ($64.8 million)-were all from the United States.
But last month, largely thanks to the weeklong Spring Festival holiday, a record 4.05-billion-yuan box office revenue was taken mainly by Chinese blockbusters.
The remake of the classic fairytale Cinderella, starring Lily James and Richard Madden, took the top spot, grossing a record 155 million yuan over the weekend. It was released on the mainland on Friday.
Big Hero 6, an American 3-D computer-animated superhero comedy also produced by Disney, came in second to the princess tale. It took 91.4 million yuan over the weekend, making its total box office revenue 415 million yuan after more than two weeks' release.
Sci-fi fantasy film Jupiter Ascending-despite suffering an average score of 5.6 out of 10 on popular Chinese movie review sites, such as Douban.com-is still the third-highest-grossing movie at the March box office. The American-Australian production grossed 50 million yuan over the weekend, with its total earnings standing at 250 million yuan.
The United Kingdom's Prince William attended the premiere of the British hit comedy Paddington during his China visit on March 3.
More Western blockbusters will hit cinemas later this month.
The spy action film Kingsman: The Secret Service-a highly anticipated box-office release-will bring 2011 Academy Award best actor winner Colin Firth (The King's Speech) to Beijing for a promotional event four days before its Chinese premiere on March 27.
French action thriller Taken 3, about a man framed for the murder of his wife, will hit Chinese screens on March 20.
While many foreign movies are targeting the March market, only a few big-budget Chinese movies will be released this month, including Hong Kong actor Andy Lau's Lost and Love and Taiwan supermodel/actress Lin Chi-ling's romance An Autumn Wind.
Most insiders contacted by China Daily say that the homegrown blockbusters usually wait for the upcoming holiday season around Tomb Sweeping Day in April and May Day.
"February (Chinese New Year) is a special period for the box office. Even the people who only visit theaters once or twice a year, such as children and elderly people, will buy tickets during the Spring Festival as a holiday celebration," says An Yugang, general manager of Inentertainment, a Beijing-based film marketing company with close connections to Hollywood studios.
"But the March market returns to normal. Without non-regular viewers coming to see films, then obviously we anticipate less money being taken at the box office. In terms of costs versus returns, major studios and distributors usually hold off on major productions until the next high season, such as summer vacation."
However, An believes March is a good time for some low-budget films and art-house moviemakers to earn both reputation and money.