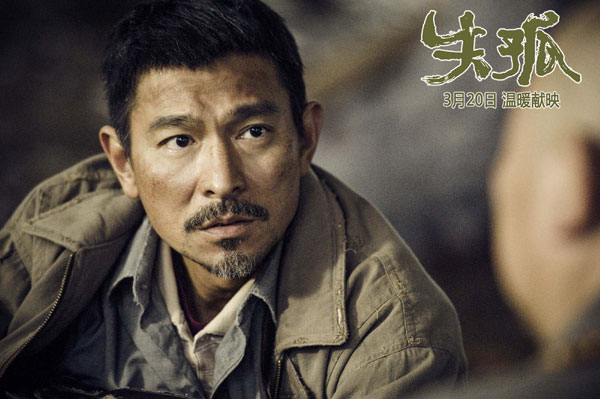 Andy Lau plays a grief-stricken farmer in search of his lost son in Lost and Love, which is a departure for the "film god". [Photo provided to China Daily]
Filmmaker Peng Sanyuan was stunned by the huge number of trafficked children when she first read a news report about the issue.
It is estimated that 1.2 million children are trafficked worldwide a year, and the trade in humans is worth $31.6 billion.
"These are shockingly large figures," Peng says. "In China, the number of missing children is huge. I felt I needed to do something to help those who have lost their loved ones in this way."
The result is her film Lost and Love, to be released on Friday.
Peng is known for her popular TV dramas on urban life. Lost and Love, the scriptwriter-turned-director's first feature-length movie, tells the heart-wrenching tale of a farmer who spends 15 years searching for his lost son.
The film is based on the real-life story of Guo Gangtang, a farmer in Shandong province who has trekked 400,000 kilometers across the country to look for his son.
"I interviewed Guo during Spring Festival in 2011," Peng recalls.
"When I walked into his empty home and was shown around places in the village where his son was last seen with the suspected trafficker, it was clear to me that after so many fruitless years of searching, this poor man's desperation had beaten him into submission."