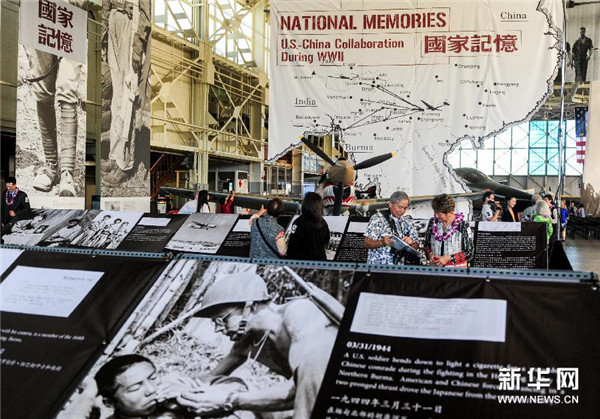 National Memories, a photo exhibition featuring US-China collaboration on the China-Myanmar-India (CBI) Theater during the World War II, is opened to visitors at the Pacific Aviation Museum Pearl Harbor in Hawaii, March 14, 2015. [Photo/Xinhua]
"National Memories", a photo exhibition on China-US collaboration during World War II in the China-Burma-India (CBI) Theater opened at Honolulu's Pacific Aviation Museum Pearl Harbor on Saturday.
This is the first stop of the exhibition's 2015 US tour that displays over 100 pictures mainly taken by the 164th US Signal Photo Company in the CBI Theater together with planes served in World War II.
The exhibit brings to life the unusual and unknown camaraderie between Chinese and U.S. soldiers when the two countries joined forces during WW II.
Taken from tropical jungles to arid hinterland, and from populous cities to remote villages, photos in the "National Memories" not only featured renowned historical figures of the famous Flying Tigers made up of young American pilots, but also depicted the soldiers, combat medics, and civilians from both countries.
"It's new for me. I know about the corporation between the United States and China in the Second World War, but I don't know about the details. It's very interesting to go around picture by picture," said Nicholas Manring, a resident of Hawaii. "It's a very good exhibit. The pictures are very clear and the captions are very good explaining what was going on," added Manring.
A photo showing a Chinese soldier and an American one leaning towards each other to light a cigarette during the fighting in the Hukawng Valley in Myanmar left a deep impression on David Lampton, former president of the National Committee on US-China Relations.
"It showed a kind of cooperation. It's very humane," he said, "this is a good model for cooperation we should apply in the future, it also reminds us that there is no peace in Asia unless the United States, China and Japan get along, so we have to find a way to do that."
"The historic friendship between China and the United States in World War II was significant for the outcome of the war, and continues to resonate with citizens of both countries," said Shauna Tonkin, director of education of the Pacific Aviation Museum Pearl Harbor, "this exhibit portrays the events and emotions of that era through remarkable photographs that bring this history to life."
The exhibit, organized by the China Overseas Exchange Association, the Pacific Aviation Museum Pearl Harbor, Rhythm Media Group Inc. and the Chinese Chamber of Commerce of Hawaii, will be held until July 31.