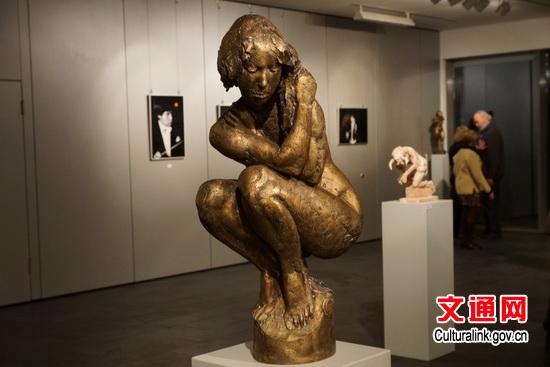 A work by Bärbel Dieckmann is on display. [Photo/ Culturalink.gov.cn]
An opening ceremony for an art exhibition featuring the works of Berlin sculptor Bärbel Dieckmann and American photographer Madeleine Coffaro was held at the China Cultural Center in Berlin on Feb 11. The exhibition will be openthrough the end of March.
Bärbel Dieckmann won the Gustav-Weidanz Prize for Sculpture in 1994. After graduating from Universität Bielefeld with a major in visual communication and sculpture, she began teachingstone sculpture in Kaiserslautern,a city in southern Germany. Exhibitions of her sculptures impressed the cultural and art circles in Germany, and her works are popular among private collectors. In 2014, she attended an art workshop in Shanghai, China, where she developed a great interest in Taijiquan, the traditional Chinese martial art, and created a series of works concerning Taijiquan with a distinctive Chinese flavor.
Five portraits of Chinese conductor Yang Muhai taken 34 years ago by photographer Madeleine Coffaro will also be on show. Coffaro was once an opera singer, member of the Bayreuth Festival Choir. In 2014, she collaborated with Yang and held an exhibition of Yang's portraits in Shanghai.