Memorable moments from Spring Festival break
The Spring Festival holiday has officially ended and most Chinese have returned to work. This year's break, as always, was packed with moments that caught the eye. Here we present the most memorable ones.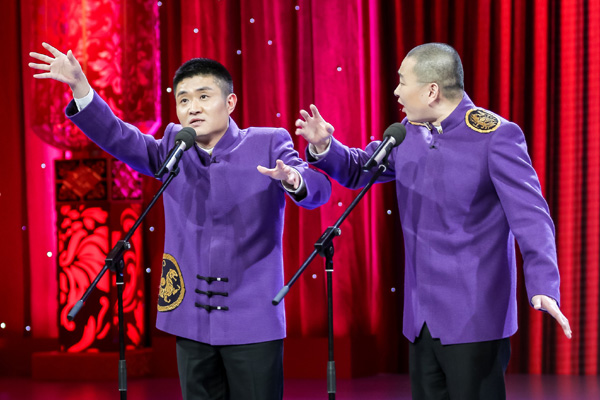 Miao Fu and Wang Sheng perform at CCTV Spring Festival gala in Beijing, Feb 18, 2015. [Photo/IC]
A record low
China Central Television's Spring Festival gala was broadcast on Lunar New Year's Eve on Feb 18, 2015. The telecast audience ratings for this year's show dropped to an 8-year low with 690 million viewers, while the number of the show's online streaming watchers hit a world record high, according to data released by the national television station.
Ratings for this year's telecast show dropped to 28.37%, the first time for the figure to have plummeted below 30% since 2008, when the data for the gala's national viewership was made public. It is believed the 2010 edition of the festival gala rated highest, with 38.26%.
In contrast to the decreasing TV viewership, video websites seemingly cashed in on the big event.
Iqiyi.com, a video website that acquired the rights to cover the gala live online, said it attracted 14 million online visitors during the variety show's live broadcast, hitting a world record for a single website to broadcast any big event. During the more than four hour show, the gala was watched more than 70 million times and the total duration for watching was 104 million hours, according to Iqiyi.com.
According to a report by Guangming Daily, everything about the Spring Festival Gala is judged, from the choice of director, performing guests and program setup, each year after its broadcast.
"Since it's hard to get by without being criticized, creators need not worry too much, let alone be upset over the results. Face the response with a peaceful mindset, and maybe they can learn about the programs and the needs of the audience more objectively," said Guangming Daily.
Related:
CCTV gala reflects anti-corruption themes