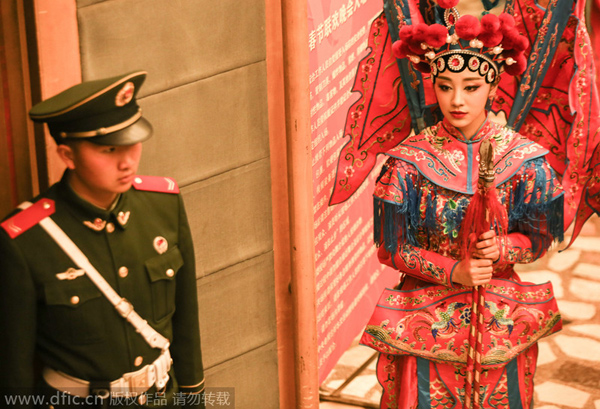 An opera performer, right, prepares before showing on stage during the 2015 China Central Television New Year's Gala, also known as the Spring Festival Gala, in Beijing, Feb 18. [Photo/IC]
The telecast audience ratings of China Central Television's Spring Festival gala, or Lunar New Year's Eve gala, dropped to an 8-year low with 690 million viewers, while the number of the show's online streaming watchers hit a world record high, according to data released by the national television station.
Ratings for this year's telecast show dropped to 28.37%, the first time for the figure to have plummeted below 30% since 2008, when the data for the gala's national viewership was made public. It is believed the 2010 edition of the festival gala rated highest, with 38.26%.
With the number of TV viewers decreasing, video websites seemingly cashed in on the big event.

Iqiyi.com, a video website that acquired the rights to cover the gala live online, said it attracted 14 million online visitors during the variety show's live broadcast, hitting a world record for a single website to broadcast any big event.
During the show in more than four hours, the gala was watched more than 70 million times and the total duration for watching was 104 million hours, according to Iqiyi.com.
The annual variety program featuring songs, operas, dance, comedy and comic sketches went on the air nationwide in 1983 and has since been regarded as a national tradition to celebrate the Chinese Lunar New Year.
Many performers have emerged as household names in China solely as a result of their recurring appearances on the program.
After running for 33 years, it remains the world's longest-running and most-watched variety show in television history. The gala's audience ratings have remained above 30% except this year, according to statistics from CSM Media Research.
Because of its old-fashioned forms of performances and conservative choice of artists, the event was revamped after being criticized for being too serious, and thus said to be losing young audiences.
This year, China Central Television sold its online broadcast rights for the first time. Data showed more than 90% of its online viewers are less than 30 years old.
It has become more socially relevant by encompassing social problems and controversies. At least three pieces in this year's gala had anti-corruption themes.