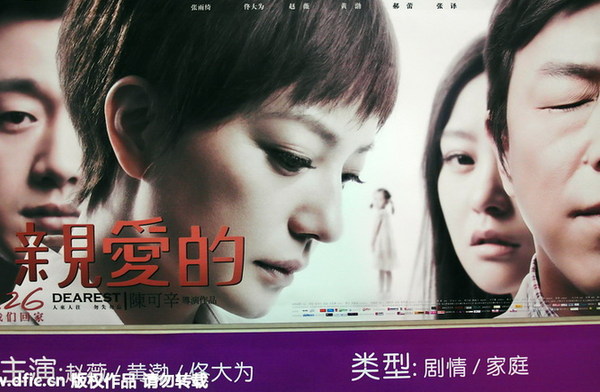 A poster of Peter Chan's film Dearest.[Photo/IC]
The real life mother, whose child-trafficking saga inspired the hit Chinese film "Dearest" has accused the film's producers of infringing on her legal rights, Modern Express reports.
Netizens discovered that both kids of Gao Yongxia, a mother from East China's Jiangsu province, were not her biological children in 2011.
They were later able to find the real father of one of her children, after a successful anti-trafficking social media campaign on Weibo, highlighting her case.
The other child has since then been adopted by social welfare authorities.
Gao's real life drama served as the inspiration for the film 'Dearest' directed by Peter Chan, with actress Zhao Wei in the lead role.
The film was released in China last September and was screened in the Special Presentations section of last year's Toronto International Film Festival.
But Gao Yongxia says that many parts of the plot were entirely false and even defamatory.
The film plot depicts the mother having an extra-marital affaire just to gather evidence and kneeling before reporters begging for help. Gao says this is 'totally unacceptable' and that this never happened in real life.
Gao's personal information and photo were included in the film's closing credits without her consent. Therefore, the film may also have infringed on her right to privacy.
Gao says she was very upset after watching the film during the Spring Festival holiday this year, and that she felt as if someone was speaking ill of her behind her back.
Gao urged the film's producers to publicly explain which parts of the plots were real and which were made-up. A family member of Gao is demanding apologies, because otherwise the film could be both misleading and detrimental to her mental well-being.
Gao said she had turned down several interviews with the producers of "Dearest", saying she didn't want to be reminded of the terrible experiences.