Actress Emma Watson urges more men to fight for gender equality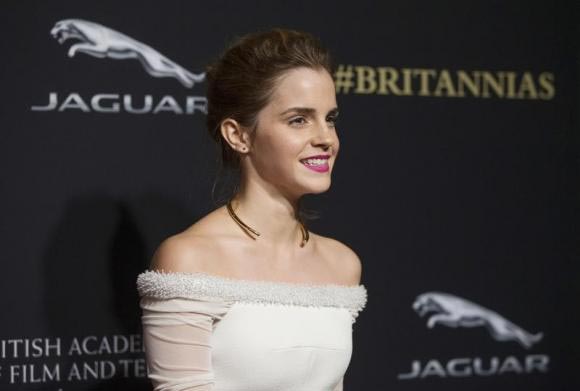 Actress Emma Watson poses at the BAFTA Los Angeles Britannia Awards at the Beverly Hilton hotel in Beverly Hills, California October 30, 2014. [Photo/Agencies]
British actress Emma Watson urged more men and boys on Sunday to take a stand for women's rights and be proud to be feminists in a bid to add momentum to a global campaign to unite men and women for gender equality.
Watson, 24, a goodwill ambassador for UN Women, used International Women's Day to add impetus to the HeForShe campaign that was launched in September last year and encourages men and boys to join the fight for equal rights.
So far around 240,000 men have pledged their commitment online, according to the HeForShe website, including US President Barack Obama and actor Matt Damon, but there is a target to mobilize one billion men and boys by July this year.
"There has been a ground swell of support but we need more men to take a stand for gender equality," Watson told a discussion on gender equality at Facebook's London headquarters.
"Men often think that feminism is a women's word ... but if you stand for gender equality, you are a feminist."
Watson, who rose to fame as Hermione Granger in the Harry Potter films, said the campaign was not about men saving women and also called upon women to support the campaign.
"It's uncomfortable and awkward for women to acknowledge there is a problem, but we need to understand we are complicit," she said.
The actress said she was pleased with the response to the IMPACT 10X10X10 initiative, a one-year pilot project launched in January seeking commitments from governments, companies and universities on women's empowerment and gender equality.
Several countries, including Sweden, the Netherlands and Sierra Leone, have backed the campaign, Watson said.
When asked about gender equality on a global scale, Watson praised the power of social media to allow girls and women to interact with others who can provide advice and support.
Audience members chosen by UN Women to attend the event submitted their stories online of what they had done to advance gender equality.
Jacob Anderson, 24, a Swedish designer, said he was an active supporter of women's rights on online forums and social media.
"Gender equality should be talked about far more than it currently is ... it doesn't make sense that women and men don't have equal rights," Anderson told the Thomson Reuters Foundation at the event in London.
Related:
Actress Emma Watson's plea for equality wins men's support