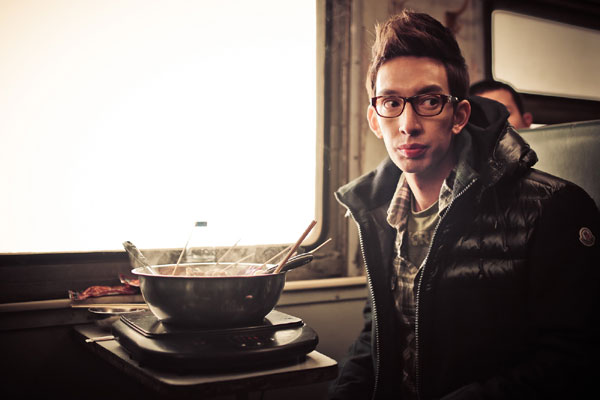 Web celebrity and actor Mike Sui performs in accents from different parts of the world in 12-minute short film he produced last year. He works on the production of the video. In the film, some social issues such as high housing prices are highlighted. [Photo/China Daily]
A Beijing-based Web sensation releases an online short film in which he mimics accents of people from different parts of the world. Xu Lin reports.
Beijing-based Web celebrity and actor Mike Sui recently drew wide public attention with a short film.
In the 12-minute film he is shown mimicking accents from China such as the Sichuan dialect, Cantonese and "Chinglish" (Chinese English) of imaginary people on board the slow green trains that were popular in China from the 1950s to '80s, and gradually disappeared from public view when high-speed rail took over.
In the video, Sui is also heard speaking in several foreign accents.
Sui spent 300,000 yuan ($47,970) making the film, and says he did so to show his appreciation of Chinese culture, and "give back to viewers who let me change my life".
It's his second such film. The first in 2012 turned him into an online celebrity overnight. Before that, he taught English and hosted social events for little income and only had meager savings.
"I wanted to make everyone laugh and to make something genuine and unique, different from what's online these days," Sui says.
The 29-year-old online sensation, whose real name is Michael Stephen Kai Sui, has a Chinese father and an American mother. He also speaks French, Spanish and Japanese.
Born in the United States, Sui moved to Beijing at the age of 7 because of his parents' work, and learned Mandarin in primary school. He returned to the US when he was 15 and moved to Beijing again in 2005.