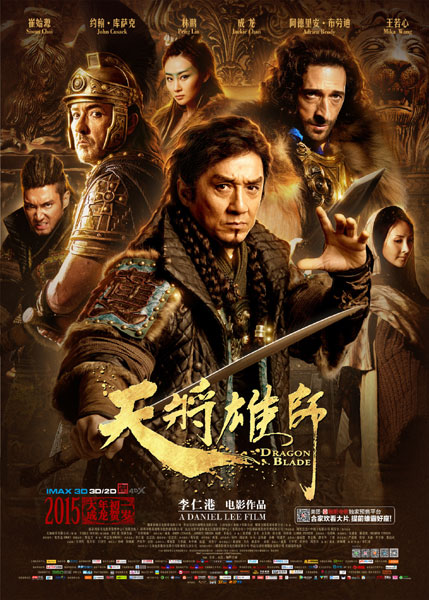 Poster of Jackie Chan's Dragon Blade. [Photo/IC]
Up to eight Chinese homegrown films will be shown on the first day of the Lunar New Year, making the seven-day holiday one of the most competitive period ever in China's film industry.
Four big budget productions with big cast, Jackie Chan's Dragon Blade, Chow Yun-Fat's The Man from Macao II, Jean-Jacques Annaud's Wolf Totem and fantasy adventure film Zhongkui: Snow Girl and the Dark Crystal, all chose Thursday as their opening day.
With the addition of two reality TV show-turned movies, an animated feature film and a Hong Kong film, viewers will find it hard to decide which one to pass the time during the holiday.
Expectations are high on these films to snatch a larger box office than last year as there are no major Hollywood films as challengers until the Feb. 28 screening of Disney's Big Hero 6.
Three movies raked in a record 1.45 billion yuan (231.7 million U.S. dollars) in last year's Spring Festival holiday as China's second-and-third tier theaters sold more movie tickets during the holiday as a result of more homecoming viewers going to the cinema.