Savoring old Beijing at Nine Gates Snack Restaurant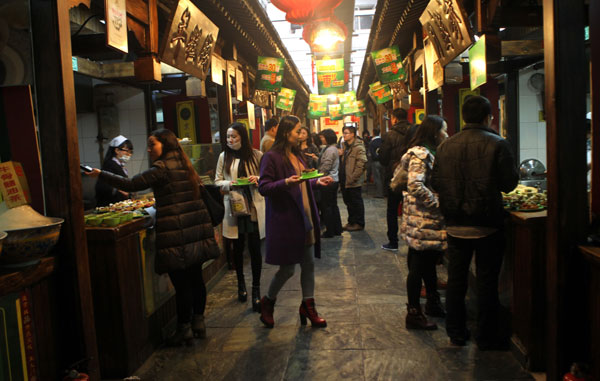 Three of the traditional Beijing dishes available during the "snack exploration tour of Shishahai" at the restaurant which has been adapted from a courtyard house. [Photo by Zou Hong/China Daily]
Chinese festivals are always linked with food. As Spring Festival approaches, Beijing's festive food culture is on full display everywhere, both in people's homes and in restaurants.
On Feb 6, the Beijing Tourism Development Commission announced the start of an event it calls the "snacks exploration tour in Shishahai" at the Nine Gates Snack Restaurant, or Jiumen Xiaochi, to enable people to savor the traditional Beijing fare.
Since 2009, the commission has held a series of food promotion campaigns to boost tourism during Spring Festival by building a brand called "Eat in Beijing". Local snacks, or xiaochi, are an important part of the annual Spring Festival food promotion campaign.
As one of the three major snack traditions in China, Beijing fare is among the top food options for visitors to the Chinese capital. The Nine Gates Snack Restaurant, which opened in 2006, is seen as the best place to taste authentic Beijing snacks. Most of its chefs are descended from families that kept the authentic recipes alive for more than 100 years.
About 30 people were invited for a free snack dinner on Feb 6, and during the Spring Festival, the restaurant will offer discounts to all diners.
Located in a hutong along the north bank of Houhai Lake, the restaurant was adapted from a courtyard house of nearly 3,000 square meters.
It offers about 200 kinds of snacks to diners. Apart from a few foods originating in other places in China, most of the items are famous Beijing snacks such as douzhi, a favorite drink of old Beijingers made from mashed soybeans, baodu, or quick-boiled tripe, rice cakes and almond soup.
The restaurant got its name from the nine gates in the wall that used to surround Beijing. Its name bears the connotation of a place where all the capital city's snacks can be found, according to Yang Tieliang, a consultant to the restaurant.