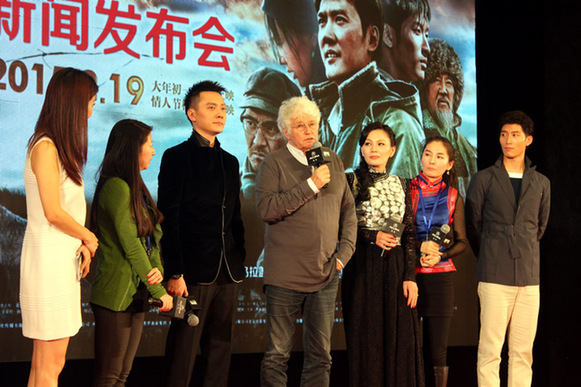 French director Jean-Jacques Annaud and the cast and crew of "Wolf Totem," including actors Feng Shaofeng, Shawn Dou promote at the premiere in Beijing on Feb.4, 2015. [Photo/China.org.cn]
In a country reflecting on its "growth-at-all-costs" economic model, the upcoming film adaption of the Chinese best-selling novel "Wolf Totem" is likely to fuel discussions on the relationship between humans and nature.
The 2004 novel, written by Lyu Jiamin under the pseudonym Jiang Rong, tells the story of Chen Zhen, a young Beijing intellectual sent from Beijing to the alien world of the Inner Mongolian steppes in the late 1960s.
Chen was impressed by the locals' fear and respect for the wolves. Inspired by the animal's courage, independence and willpower, he reared his own wolf cub.
The discord between the nomadic and farming cultures runs throughout the book, and brings into question the way in which new settlers upset the ecological balance by killing the wolves to claim the grasslands.
The book was a huge domestic success, with nearly five million official copies sold. It has been translated into around 40 languages and won the 2007 Man Asian Literary Prize, the Asian equivalent of the Booker Prize.
Oscar-winning French director Jean-Jacques Annaud, 71, said in an interview earlier this week that he was fascinated by the "beautiful story".
"From my perspective, the novel is about love and mutual understanding," he said.