Death and dresses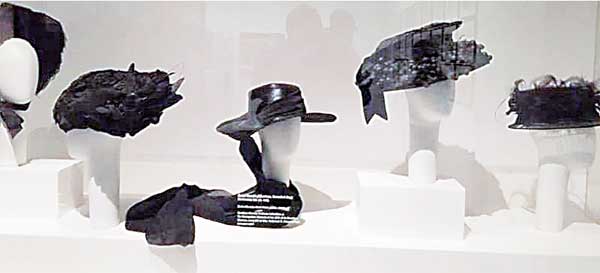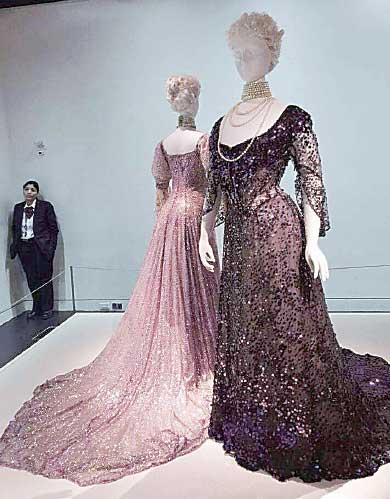 An exhibition about death and funerals is being presented at the Anna Wintour Costume Center of the Metropolitan Museum of Art in New York City. Photos provided to Shanghai Star
An exhibition about death and funerals is being presented at the Anna Wintour Costume Center of the Metropolitan Museum of Art in New York City. The show, named Death Becomes Her, A Century of Mourning Attire, has more than 30 ensembles on display until Feb 1. These are not common funeral dresses, but mourning fashions from the 19th and early 20th centuries, including the mourning gowns of Queen Victoria and Queen Alexandra of Denmark, as well as works by English fashion designer Charles Frederick Worth, who is widely considered the father of haute couture.
The exhibition is designed in a very special way. Situated at the corner of the galleries of Egyptian Art, the entry to the underground Anna Wintour Costume Center fades away from the mummies' showroom. Walking down the stairs, visitors will find the walls decorated with delicate black leaves and mourning music playing.
With the funeral march playing in the background, all the mourning gowns worn by the faceless models appear in front of the visitor, giving you the feeling of being at an actual funeral. This funeral attire is all exquisitely made, from the jewelry to the dresses to the hats. In a small showroom, paintings depicting past funerals are on show. The organizer also tries to describe the relationship between funerals and mourning dresses through slideshows.
One of the slides quotes English novelist George Gissing's The Odd Women, a novel he wrote in 1893. "Her mourning garb, if mourning it could be called, represented an extreme of the prevailing fashion; its glint and rustle inspired awe in the female observer. A moment ago the drawing room had seemed empty; Mrs. Luke, in her sole person, filled and illuminated it."
The expression of "filled and illuminated it", immediately brings to mind Mrs Luke's perfect dress and appearance at the funeral.
The exhibition has a feeling of elegance. The peaceful Western funerals are in stark contrast to Chinese traditions relating to death, which usually have few dress requirements and attendants make a scene by crying loudly. The delicate details of Western funerals are intended to show respect to the dead. The tranquil sorrow makes those attending the funeral realize the importance of living seriously.
Related:
Wintour savors future of Chinese fashion