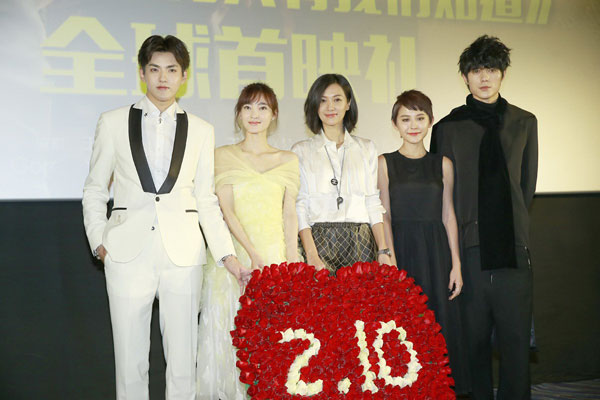 Xu Jinglei (center) at the promotional event for her latest directing work Somewhere Only We Know.[Photo by Jiangdong/China Daily]
China's movie market is welcoming women directors and producers after decades of male dominance, but challenges remain. Xu Fan reports.
The fast-expanding movie market in China is appearing to welcome more female directors and producers in a sector that's been dominated by males for decades.
Zhou Xun, a household name for millions in China and among the few local actresses to grab international attention, has revealed her new role as producer of A Journey, Through Time, With Anthony.
"It's my first time to promote a movie as a producer. I feel a bit nervous," Zhou, 39, said at a press conference on Feb 2. " (The producer) is like a cook. The job requires you to select a mass of proper stuff and mix them to make a wonderful dish."
Adapted from the namesake best-selling novel featuring the joys and sorrows of youth, A Journey, Through Time, With Anthony is a "hear-warming" subject, says Zhou.
Dubbed as the "queen of art-house films" by the media, the Berlin Silver Bear winner says the novel's "simple and earnest" writing style attracted her, and finding the "correct" lead actor from among hundreds of candidates, was her first major task as producer.
Although a fresh face in the Chinese movie industry, the 1.89-meter-tall supermodel Liu Chang will play the lead role of Anthony, a character that's inspired by real-life stories of the novel's author Ma Liang, an Australia-based designer who is better known to Chinese fans as his pseudonym, Anthony. Liu rose to fame in fashion circles at the 2012 London Fashion Week.
Ma gained popularity from writing essays and novels for the youth-theme magazine Zui, a literature publication in China.
Listed as the eighth richest Chinese writer in 2009, Ma is said to make an annual royalty income of 9 million yuan ($1.43 million) and has nearly 2.2 million followers on Sina Weibo, the country's most popular micro-blogging site.