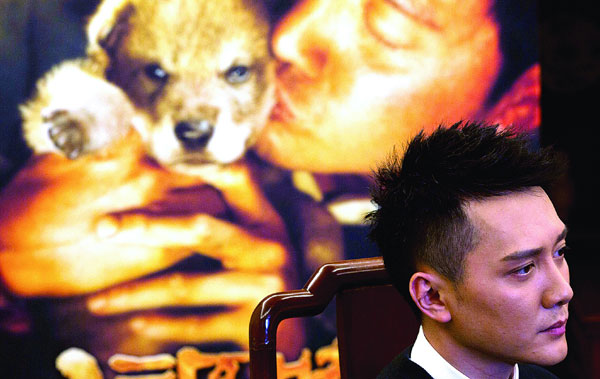 Feng Shaofeng is the main actor of the film.[Photo/Agencies]
Wolf Totem, the 3-D adventure epic that stars real animals and took five years to make, is expected to be the biggest grosser during the Spring Festival, Xu Fan reports.
Eleven years after it was published in 2004, Jiang Rong's novel Wolf Totem, which sold as many as 5 million copies and was translated into 39 languages in 110 countries, will come to the big screen during the Chinese Lunar New Year.
The movie, a coproduction of China and France, will be released across the country on Feb 19.
The 3-D adventure epic, helmed by French director Jean-Jacques Annaud, was very well received by viewers at test screenings in Beijing, Chengdu and Guangzhou earlier this month.
Zheng Yuanjie, the children's literature writer who is hailed as China's "king of fairy tales", estimates that the movie will gross at least 1.2 billion yuan ($192 million) at the box office. If the country's second-richest author's prediction comes true, Wolf Totem will become one of the highest-grossing movies in the history of Chinese cinema. Lost in Thailand had earned a record-breaking 1.26 billion in 2012.
Real estate tycoon Pan Shiyi, whose business management approach was inspired by the wolves' strategies, says the movie will change the stereotyped image of wolves as vicious animals, something that was formed in his childhood by the older generation's depiction of the beasts' brutal killing of herds.
The positive early reception does not quite tell how difficult it was for the movie to be made. It has taken five full years for Wolf Totem to go from print to screen.