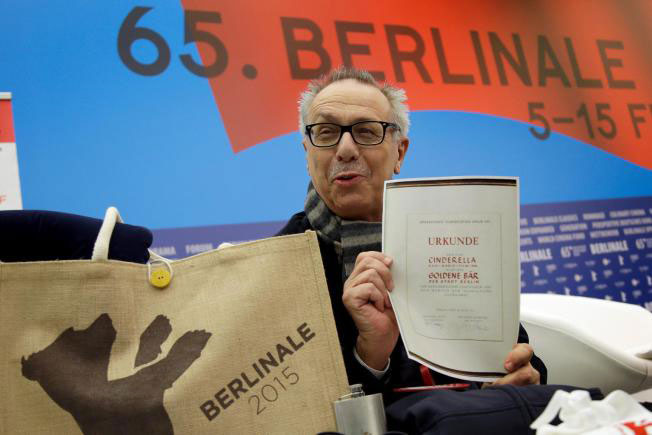 Dieter Kosslick director of the International Film Festival Berlin, the Berlinale, holds a copy of a 65 years old Golden Bear award certificate as he poses for the media prior to the annual program press conference in Berlin, Germany, Tuesday, Jan 27, 2015. [Photo/Agencies]
The Jury members for the 65th Berlin Film Festival have been announced.
"Amelie" actress Audrey Tautou and "Mad Men" creator Matthew Weiner will be among the eight judges at this year's event.
Dieter Kosslick, Berlinale's organizer, repeated that the films shown and in competition will reflect the world's most important issues.
"This year we have, a lot of these items, it's about religious things, it's about torturing people, it's about history, it's about abusing. I mean we have all these kind of films, it's astonishing enough but I think as the world is more and more globalized, we have more and more these subjects artists are taking," said Kosslick.
"Rush" actor Daniel Bruhl, "The Host" director Bong Joon-ho, "Hannibal" producer Martha De Laurentiis and Claudia Llosa, the director of "The Milk of Sorrow," will also be among those deciding who gets the Berlinale's Golden Bear and Silver Bear awards.
The jury will be led by director Darren Aronofsky, as previously announced.
Chinese director and actor Jiang Wen's film "Gone with the Bullets" will have its international premiere at the festival, and is also part of the main competition.
The 65th Berlin Film Festival runs from 5th to 15th February.
Related:
Video:
Guo Junli: A man who creates stories