Get prepped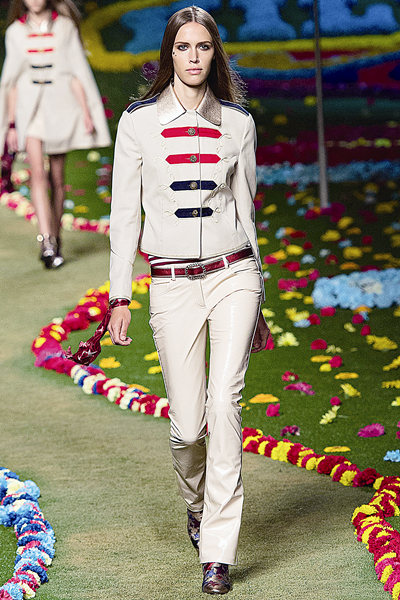 Tommy Hilfiger's. Photo provided to Shanghai Star
Looking like an impossibly well-dressed student is all the rage among fashionistas. Xu Junqian schools us in what to wear.
Your days in the classroom might be long gone, along with your acne and the energy to stay up all night - mostly for parties but twice-a-year for last minute exam prep. But thanks to the fashion world you can still look the part of the chic student, with plaids, tweeds, satchels and blazers all hitting the catwalks. These are some of the fashion houses leading "preppy" trend.
Tommy Hilfiger's
Known as the preppy girl's dream designer, Tommy Hilfiger is mixing his signature squeaky clean preppy style with a touch of rock and roll for the 2015 spring summer collection. Striped tops are in brighter colors. Light metals, from buttons, caps, to the gold braiding and edging, are prevalent and flares are a staple silhouette in the collection. Some find the new collection from the designer, a big fan of The Beatles, too costumey, but others call it "a refreshing departure". We simply think the idea of a school girl rebellion "top of the class".
DIESEL
Hilfiger is not the only designer marrying a rock'n'roll aesthetic with preppy style. If Hilfiger's formerly unrevealed passion for rock and roll takes us by surprise, Nicola Formichetti seeking inspiration from preppy styles is even more eyebrow raising. The artistic director for denim brand DIESEL and the stylist who has contributed to some of Lady Gaga's most memorable looks, the meat dress, for example, finds inspiration for DIESEL's 2015 spring summer collection in the schoolyard - at least among the independent and rebellious students. A bold combination is made with DIESEL's signature items like denim and leather and sports styles and bright colors.