Crocs putting best foot forward in China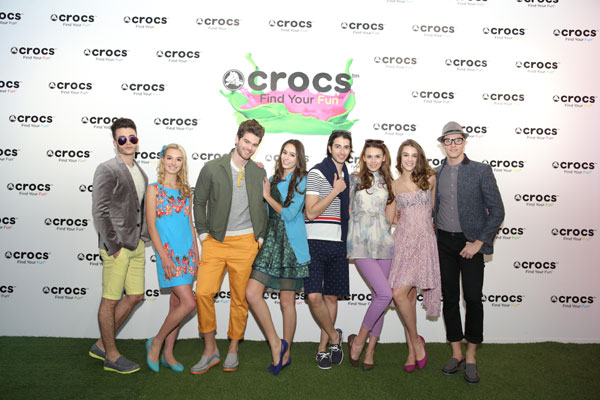 Crocs showed its 2015 spring/summer collection in Shanghai earlier this month. Photo provided to China Daily
American footwear brand Crocs showed its 2015 spring/summer collection in Shanghai earlier this month.
The event, with the theme "Find your fun", turned the Bank of Art designer center in Xintiandi complex into a "Crocs Fun House" that fused fashion, innovation and art.
Before the show, visitors were guided through the Fun House, with its Italian-style wishing well, 3-D effect oceans, romantic gardens and the craft experience center.
Models styled as young chic urbanites presented four lines. The Colorlite line highlighted its material that is light and breathable. The Stretch Sole line with ultra-flexible soles is designed for outing and sports, while the Boat Shoes are for seaside vacations and leisure days. The Translucent line offers wedges in various candy colors.
The event ambassadors Zhang Bichen, winner of the "Voice of China 2014", and Yu Feng, the third-place winner, performed after the show.
Following the runway show was a five-day session of cosplays, art exhibitions, live shows and magic acts.
With a focus on the family market, the brand is best-known for its colorful clogs and has ventured into autumn and winter fashion in recent years. The label expanded rapidly in China since its entry in 2006: It now has 800 stores in about 200 Chinese cities.
"We have more advantages over competitors in spring and summer because of the colors, the comfort and the innovation we offer," says Scott Yuan, vice-president of Crocs Greater China. "The Chinese customers love new things, and they are not as sensitive to prices as to technologies and innovation. They just want good products."
With its already stable retail network in China, the company will focus more on brand-building and developing new products, he adds.
The company has received an investment of $200 million from US investment firm Blackstone Group, which was announced in late 2013.
"We now have more resources to develop new products and brand marketing," he says. "And we will spare no effort in promoting in China as it has become one of our key countries."
Related:
Spend Chinese New Year in style