Life in uniform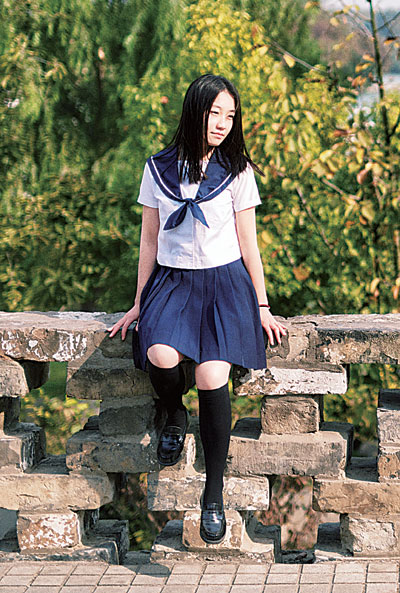 Photo provided to Shanghai Star
Many people spend years of their life in uniform. Love them or hate them, they are a feature of many defining moments when growing up. Li Xueqing reports.
Youthful looks
Before she turned 30, Liu Dehua decided she wanted to mark her youth by posing for photos while wearing a school uniform. In November, Liu traveled to Nanjing with a second hand Japanese school uniform she had bought online, and posed beside the ancient city wall. "I wanted the photos to have an antique flavor," says Liu, a 29-year-old office manager of a PR agency.
Liu has always been fond of school uniforms, as have her parents. "My mother loves uniforms of all kinds. My father thought I looked most adorable when I was wearing school uniforms. To be frank, school uniforms did suit me more than other students," says Liu. Perhaps it was because she practiced ballet. She always did her hair up as meticulous as a ballerina on the stage, either in a bun or in a ponytail and she walked with her back straight.
"Students nowadays reject school uniforms. The clothes hang loosely on them. How can they look pretty?" asks Liu. Despite loving her school uniform, she also tried other styles at school. In her second year at junior middle school, the Hong Kong movie series Teddyboy was popular among students. "Boys had posters of the movies on the wall, while girls dressed up like characters in the movies. And I went to school wearing all black to look cool."
She still loves school uniforms however, especially uniforms she has collected from Japan. She was given her first Japanese school uniform when she was in primary school, which consisted of a white blouse and a black sundress. "The sundress looked so much like the one famously worn by Audrey Hepburn," recalls Liu. The clothes were well designed and of good quality. "It was made from thick cotton. It's kept its shape even after being washed. It's not too hot to wear in summer and not too cold in winter. By contrast, most of our school uniforms were made from cheap fabrics such as polyester," says Liu.