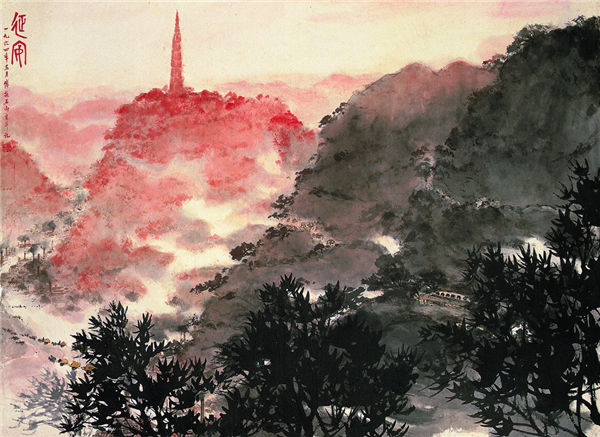 Yan'an, by Fu Baoshi, is on display in the Allow Me to Meticulously Depict the Land show in Beijing. Photo provided to China Daily
Though his late works reflect the "serving the people, serving politics" requirement for art after 1949, Fu Baoshi (1904-1965) retained a highly personal style. The signature "Baoshi wrinkle" strokes and dramatic composition make his paintings stand out among other works of his time.
An exhibition now showing at the National Art Museum of China showcases Fu's distinctive career as a modern master of Chinese landscapes, which parallels his remarkable portrayals of ancient figures. Some 80 paintings, drawn from the holdings of the Nanjing Museum, stand as testaments to how Fu incorporated Western painting skills to reform traditional ink-and-water in the nearly last two decades of his life.
The show title, Allow Me to Meticulously Depict the Land, originates from a painting by the same name, from the NAMOC collection and included in the display.
The show navigates the painter's path of transformation that included six fruitful art travels from the 1950s to '60s. He achieved breakthroughs in expanding traditional brush skills; he also built up an individualist vocabulary of imagery under the special political conditions at that time.