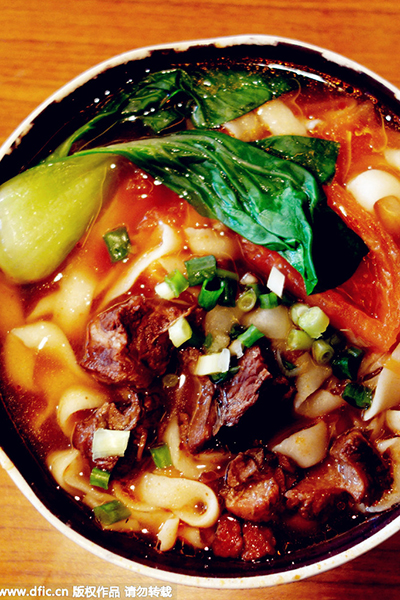 Sliced noodles are a typical staple in Shanxi. [Photo/IC]
It is surprising how luxurious simple pork belly and rice can taste. For me, having spent almost two years in China's deep south, the delicacies that excited my palate in the past are now mere specters of a culinary yesteryear. So as soon as the opportunity to visit a new place arose, combined with the stories of other travelers, I heard my stomach roar like some call to culinary arms.
I learned that Shanxi is a province anchored by an industry of coal, and its food, I fittingly discovered, matches that salt-of-the-earth quality with even more enduring dishes. Although the coal industry is transforming, the province's hardy food remains a relic of its hard-working, industrial past.
Familiar with Shanxi's noodle culture, I had no doubt my trip would be punctuated, wherever I went, with that staple. Sure enough, from the moment I arrived, from the most elaborate banquet halls to the most humble food stalls in anachronistic alleyways, I encountered noodles, offered by competing restaurants wedged door to door.
This wasn't a bad thing, however. On the contrary, Shanxi's robust culinary staple felt to me like coming home. My days were peppered with meals of meat and roasted potatoes, a very American dish, enriched by the culinary finesse of Shanxi, its cities and counties. Such standard ingredients became remarkable vehicles to transport new and novel variations. Noodles matched the character of the province's carved mountain ranges, their artisanal ridges clinging to a new flavor of sauce almost every day. These ranged from balmy, fresh tomato sauces to meaty vinegared marinades, lightly cast with onion.