The soul of cheese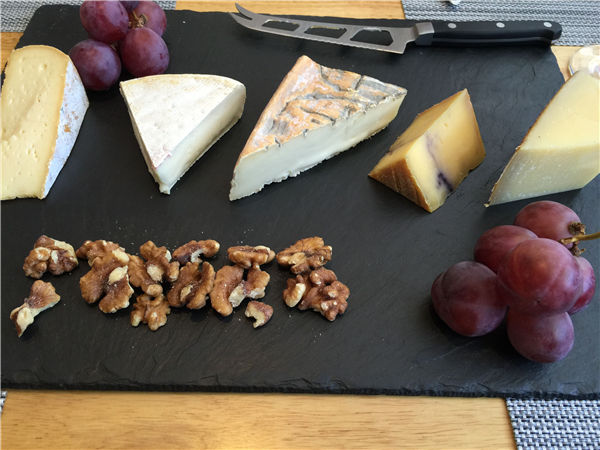 Christiane Ruckerl says a cheese tasting should start with a soft mild cheese (left) and progress to a harder, bolder variety. Photos provided to China Daily
An Austrian pro is eager to take the mystery out of Camembert, Gouda and other good things that dairy cows and proper aging can deliver, Mike Peters reports.
Her boss calls her "the cheese sommelier". That noun is generally reserved for a wine professional, preferably a French one with a grand manner and a grander vocabulary.
You get none of that-except the professional part-with Christiane Ruckerl, 27, who became entranced with the huge variety of cheeses while working at the Michelin-starred Restaurant Steirereck in Vienna. That 45-year-old eatery is famous for its trolleys, especially the cheese carts jammed with 60 cheeses from a list of about 150, depending on the season.
"You can say cheese is a simple product made from milk," says the staff specialist at the Kempinski Beijing hotel, "but it has its own soul and comes in hundreds of different types and shapes." Popular in Europe for centuries, cheese is intriguing more and more well-traveled Chinese, and the Austrian expert's job is to help them enjoy it.
"It's not about teaching like it's an academic subject," she says after a recent cheese-and-wine tasting event at the hotel, where she will host another event on Friday. "If we can bring a smile to people, that's all we want."
That means finding out not what's "good" but what you like. Ruckerl says you can set up a simple tasting to explore both different cheese types and how they mesh with wines.
To demonstrate, she prepares a platter of five cheeses-"none too extreme-tasting," she says, ranging from a mild soft cheese to a fairly robust hard one. She invites us to taste each in turn, starting with the mildest, and with each to taste two different white wines-a sweetish riesling and a drier white-to compare how they work with each cheese.
"Wines for this should never overpower," she says. "After a moment with the wine on your palate, you want the cheese flavor to come back to your mouth."