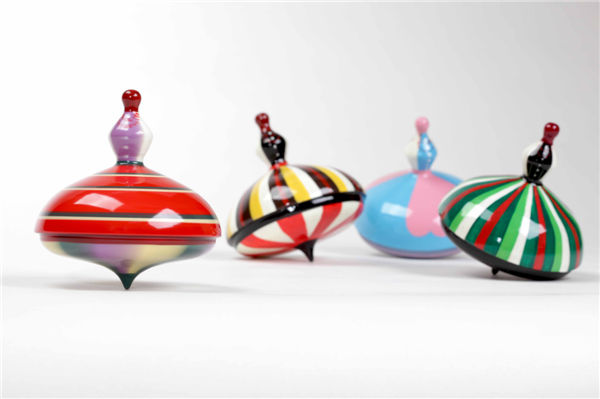 Exhibits at the show From Sources to Inspirations cover a wide range of genres, such as musical instruments, costume, paintings and furniture. Photo provided to China Daily
A show of Polish culture in Beijing speaks to the connection between the past and present. Lin Qi reports.
In today's highly materialistic and globalized society, the space for traditional culture is shrinking.
But the ever-changing world of contemporary culture is also providing ways to connect with traditions as evident from a current exhibition in Beijing.
From Sources to Inspirations, now on at the National Art Museum of China, shows the creativity of Polish designers to enliven their cultural traditions. Fortunately, it isn't a typical display that bores viewers with reproduced folk art. The designers have dug deep into their cultural roots to create clothing and other articles that reflect a respect for nature.
The audience is advised to first visit the left-hand hall of the three where the exhibition is held, at NAMOC's fifth floor. It displays selected pieces from the collection of State Ethnographic Museum in Warsaw, introducing the richness of ethnic costumes, jewelry and musical instruments.
Twenty sets of miniature models in folk costumes, posing as dancers from different regions in Poland, are highlights of the show. Also on display are Polish countryside musical instruments, which date back to Frederic Chopin (1810-49). Visitors can use earphones to find out more about the piano prodigy that Chopin was.
A showroom to the right will lead viewers to the heart of the exhibition.
The displayed contemporary designs, also from State Ethnographic Museum, breathe a second life into folk objects while adhering to the principles of novelty and sustainability.
The eye-opening experience starts with the sculpture Hatsune Miku, meaning "first sound of the future" in Japanese. The fictional cult singer created in 2007 by Crypton Future Media is no stranger to cosplay and manga (Japanese comics) lovers. Her "singing" was made possible by speech synthesis from Yamaha Company and her voice was fashioned after Japanese actress Saki Fujita.
Few may know Hatsune, recognized by Time magazine as one the most influential fictional characters of 2014, is part Polish. She was born in 2013, as part of an art collaboration between Japan and Poland to mark 125 years of the ethnographic museum in Warsaw.
The sculpture on display in Beijing puts on Polish folk costumes, which were reformed into a miniskirt and a tight top that exposes Hatsune's shoulder. She is presented to her viewer as a reminder of the ties that bind Poland's past, present and future together.
People will also be amazed by how ethno-inspired designers in present-day Poland utilize simple and natural materials such as felt, wicker and clay to diversify the interior look of people's houses.
Polish people used to spread straws underneath the tablecloth for dinner on Christmas Eve. With reference to the earlier custom, the designer group Wzorowo created a hollow glass container filled with the dried branches. Such bowls are shaped by handmade glass-blowing techniques, hence one is different from the other.
Dlzeno Creative, another designer group, uses straw imprints on their bedclothes and pillowcases. For instance, a bedcover from afar would appear like a layer of straws. And laying on it, one would notice a number of other imprinted objects-mice, moths, buttons and needles. The designers attempt to bring back memories of summer camp nights.
Jewelry designers take an unconventional approach by eliminating the intricacy associated with making jewelry traditionally. Their minimalist style gives a new life to stones.
Darla Slwlak designs a silver jewelry set made of flint-the stone can only be found in areas near Poland's Sandomierz. The stone was used for producing magical and ritualistic objects in the Bronze Age. Now it appears around people's necks and fingers.
Each piece of flint features a different combination of stripes and shades from white to dark brown.
The Bro. Kat studio pays tribute to the once flourishing mining industry in the Slask region in their jewelry designs. They remold small coal pieces into rings, cuff buttons and necklaces. "Bro. Kat", meaning black gold, is how coal was called and known as a source of wealth in Slask. It no longer plays a significant role in industrial production in Poland, but regains its gloss in modern design.
"Poland was once sunk in wars and chaos for nearly two centuries, which interrupted the inheritance of culture and traditions," says Adam Czyzewski, director of the State Ethnographic Museum. "Furthermore, in the process of modernization, many people moved away from their native places.
"The exhibits explain why and how Polish people today seek their cultural identity by reviving traditions in various ways. They show the great significance of cultural consistency."
Contact the writer at linqi@chinadaily.com.cn
If you go
9 am-5 pm, through Sept 16. National Art Museum of China, 1 Wusi Street, Dongcheng district, Beijing. 010-6400-1476.
Related: National Art Museum of China displays Polish folk art