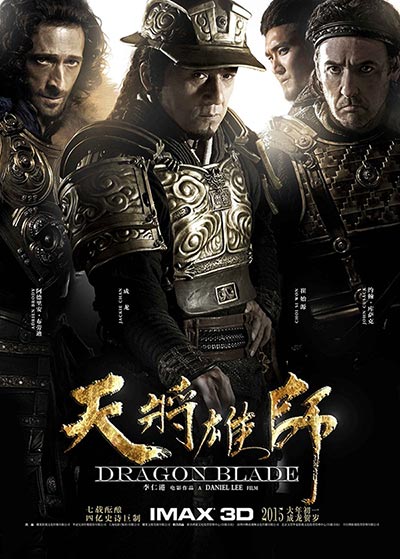 Poster of "Dragon Blade". [Photo/Agencies]
61 year old kung fu action star Jackie Chan says he won't be retiring from action movies any time soon.
Jackie Chan made the remarks while promoting his latest film "Dragon Blade" in Beijing.
"If Stallone and Schwarzenegger can fight, I still can fight. Movies are not like UFC and boxing. Of course, I need some doubles, special effects and camera angles to help me do all the action. I think action for me is still easy."
"Dragon Blade" has cost $65 million for production.
The plot of the movie is set 2,000 years ago, centering around Chinese forces and Roman soldiers coming together to protect the Silk Road.
Jackie Chan says he aims to send out a theme of peace through the movie.
"I tried to make this kind of movies long long time ago. If you see my older movies, even 'Rumble in the Bronx' and 'Twelve Zodiac,' it's about peace. Everything is about peace. Especially these days - Japan, China, India and America, the kinds of things have happened, so it is about time to make a movie to show the world. I think everybody has a responsibility to do something for peace."
Hollywood actors John Cusack and Adrien Brody also star in the movie.
The movie was released in China earlier this year earning more than $115 million at the box office.
It will hit American theaters on September 4.
Related:
Jackie Chan wants to work with son Jaycee on album, movie
China's action megastar is world's second highest paid actor